The third and final Red Flag training exercise of 2014 took place July 14-25 in the hot desert skies outside of Las Vegas, NV. Red Flag 14-3 attracted USAF squadrons from across the US and Europe as well as foreign participants. The Republic of Singapore Air Force's 428th Fighter Squadron, based at Mountain Home AFB, sent 8 F-15SGs; the RSAF's 425th Fighter Squadron, based at Luke AFB sent 8 F-16s. These were complemented by several CH-47s, and supported by roughly 300 ground personnel. The French Air Force also participated with a Special Operations C-130. In all, 116 aircraft and approximately 2400 individuals from 20 units came to Nellis AFB to take part in the two-week exercise.

The format for this Flag closely followed that of the previous two Flags this year, namely a day launch, which this time departed shortly after noon returning by 4PM, and a night launch, departing at dusk and returning by midnight. In addition to the very visible launches and recoveries of over a hundred aircraft each day, this summer's exercise continued the transition from a purely tactical training to a more strategic exercise. "The real value of Red Flag here is not just operating and getting the airplanes airborne, but learning how to work with allied forces to use the pieces that you have on your team to accomplish whatever mission that might be; and in Red Flag that typically involves striking areas that are heavily defended, surviving the effort to do that, and if not, conducting search and rescue operations," explained Lt. Col. Jordan Grant, 414th Combat Training Squadron deputy commander. In addition to the aerial threats, the Blue Team learned to accomplish their missions in a fully-contested environment, including cyber and space attacks. See our previous reviews for an overview of the goals of the exercise and additional details.
2014_Red_Flag_2014-1_Exercise.htm
2014_Red_Flag_2014-2_Exercise.htm
"A year ago we didn't have the summer Flag and that directly translated to less readiness and less training for the aircrews that otherwise would've come to Red Flag," Grant said. "We've had our full three flags this year, and the value of it is such that the Air Force has decided to put on four Flags next year because we recognize how important it is that we keep doing this on a regular basis."
ASR Media would like to thank the staff of the 99th Air Base Wing Public Affairs Office for all of their support during our visit, in particular 1st Lt Sarah Ruckriegle, MSgt David Miller and SSgt Siuta Ika.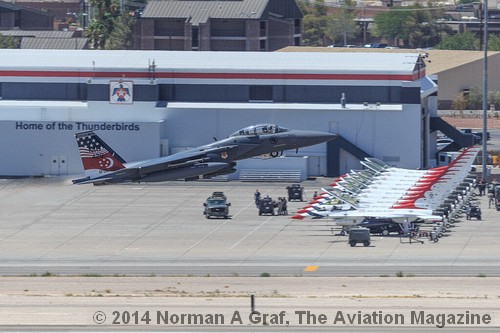 The exercise included U.S. forces and aircraft from:
4th Fighter Wing, 336th Fighter Squadron, F-15Es, Seymour Johnson AFB, NC
20th Fighter Wing, 77th Fighter Squadron, F-16CJs, Shaw AFB, SC
23rd Wing, 66th Rescue Squadron, HH-60s, Nellis AFB, NV
23rd Wing, 71st Rescue Squadron, HC-130Js, Moody AFB, GA
23rd Wing , 55th Rescue Squadron, HH-60s, Davis-Monthan AFB, AZ
23rd Wing, 58th Rescue Squadron, Guardian Angels, Nellis AFB, NV
57th Wing, 64th Aggressor Squadron, F-16Cs, Nellis AFB, NV
57th Wing, 65th Aggressor Squadron, F-15s, Nellis AFB, NV
5th Bomb Wing, 23rd Bomb Squadron, B-52s, Minot AFB, ND
28th Bomb Wing, 34th Bomb Squadron, B -1s, Ellsworth AFB, SD
4th Fighter Wing, 335th Fighter Squadron, F-15Es, Seymour Johnson AFB, NC
48th Fighter Wing, 494th Fighter Squadron, F-15Es, RAF Lakenheath, England
31st Wing, 510th Fighter Squadron, F-16Cs, Aviano AB, Italy
552nd Air Control Wing, 960th Airborne Air Control Squadron, Tinker AFB, OK
92nd Air Refueling Wing, 93rd Air Refueling Squadron, Fairchild AFB, WA
Washington Air National Guard, 176th Air Defense Squadron, Sector Operations Center
In addition to U.S. aircraft, the Republic of Singapore Air Force flew F-16Cs, F-15SGs and CH-47s and the French Air Force flew a C-130.
Rating: N/A not an airshow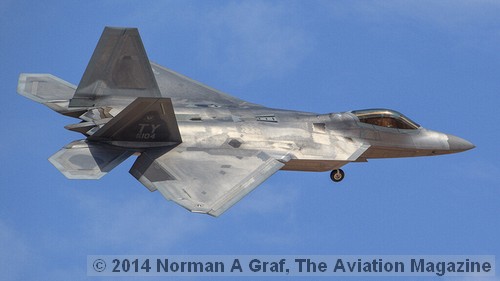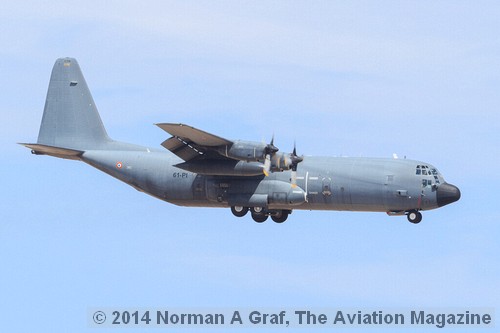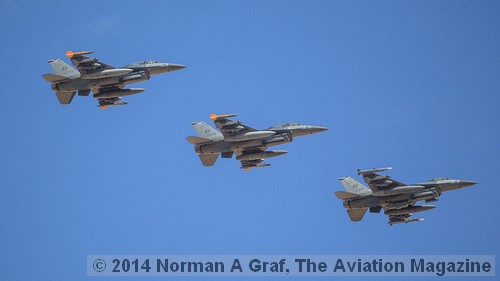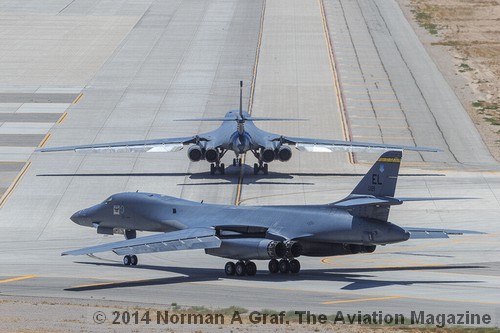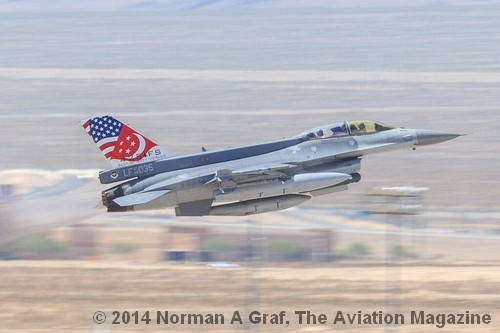 Review and photography by Norman A. Graf for