Red Flag exercises recently resumed in the skies over Las Vegas, Nevada: for three weeks, beginning on January 27 and running through Valentine's Day, over 3,200 personnel and 160 aircraft have deployed to Nellis AFB to take part in Red Flag 14-1, one of the largest and most ambitious exercises in the forty-year history of the training exercise. Assets from the US Air Force, Navy and Marines were joined by coalition forces from the United Kingdom and Australia, all training to go into combat situations and to be more effective and survivable when they do. Begun during the Vietnam War to improve the tactical dogfighting skills of fighter pilots, the exercises have matured into a much broader training effort which encompasses command and control, real-time intelligence, analysis and exploitation, as well as sophisticated electronic warfare.

Planners used an almost year-long hiatus, caused by the budget sequestration process that led to the cancelation of last summer's Red Flag 13-3, to put together more complex and integrated mission scenarios which employ and integrate intelligence, surveillance and reconnaissance assets into the mix. For the first time ever, there is continuity from one day to another. In previous Flags, going back 40 years, every day of Red Flag was a new war because the initial piece of a war is the most intense, when all the airframes and all the air defense assets are up and running. That presented the most intense combat situation that could be simulated, but it did not allow the effects of mistakes which were made or lessons which were learned to be naturally integrated into following-day or later scenarios. By all accounts, having that mission continuity as an integral part of this exercise has already begun to show huge payoffs, especially feeding in real-time intelligence and surveillance information. In addition to the primary training audience, which is the inexperienced fighter pilot, there is a group of experienced pilots participating in the joint warfighter preparation course, which trains them to be mission commanders capable of combining all the pieces of a modern air combat force and effectively employ them to accomplish a mission.
All of this activity takes place over the roughly three million acres of the Nevada Test and Training Range which is equipped with world-class ground threats and targets as well as world-class airspace in which to maneuver. During the exercise, the "Blue Forces," consisting of all the visiting units, are tasked with planning and carrying out various mission scenarios. The 64th and 65th Aggressor Squadrons based at Nellis AFB simulate the airborne threats that are arrayed to deny the success of the mission. By studying various nations around the world and working out who might be an adversary and what sort of tactics they might employ, these "Red Forces" provide a highly realistic combat training environment available nowhere else in the world. It's one reason why Air Forces from around the globe are so keen to take part in Red Flag.
ASR Media would like to thank the staff of the 99th Air Base Wing Public Affairs Office for all of their support during our visit, in particular Maj. Teresa Sullivan, A1C Jason Couillard and A1C Monet Villacorte.
The exercise included U.S. forces and aircraft from:

1st Fighter Wing, 27th Fighter Squadron, F-22As, Langley AFB, VA
20th Fighter Wing, 55th Fighter Squadron, F-16CMs, Shaw AFB, SC
55th Electronic Group, 43rd Electronic Combat Squadron, EC-130s, Davis-Monthan AFB, AZ.
Carrier Air Wing 17, Electronic Attack Squadron 132, EA-18G, Naval Air Station Whidbey Island, WA
2nd Marine Aircraft Wing, Marine Tactical Electronic Warfare Squadron 4, EA-6B, Marine Corps Air Station, Cherry Point, NC
509th Bomb Wing, 13th Bomb Squadron, B-2s, Whiteman AFB, MO
366th Fighter Wing, 391st Fighter Squadron, F-15E, Mountain Home AFB, ID
140th Fighter Wing, 120th Fighter Squadron, F-16C, Buckley AFB, CO
3rd Marine Aircraft Wing, Marine Fighter Attack Squadron 314, F/A-18, Marine Corps Air Station, Miramar, CA
116th Air Control Wing, 16th Airborne Command and Control Squadron, E-8s, Robins AFB, GA
55th Wing, 38th Reconnaissance Squadron, RC-135s, Offutt AFB, NE
Patrol and Reconnaissance Wing, Fleet Air Reconnaissance Squadron 1, EP-3C, NAS Whidbey Island, WA
Patrol and Reconnaissance Wing Ten, Patrol Squadron 40, P-3C, NAS Whidbey Island WA
23rd Wing, 41st Rescue Squadron, HH-60s, Davis-Monthan AFB, AZ
23rd Wing, 71st Rescue Squadron, HC-130Js, Davis-Monthan AFB, AZ
92nd Air Refueling Wing, Red Flag Tanker Task Force, KC-135s, Fairchild AFB, WA
552nd Air Control Wing, 964th Airborne Air Control Squadron, E-3s, Tinker AFB, OK
57th Wing, 64th Aggressor Squadron, F-16Cs, Nellis AFB, NV
57th Wing, 65th Aggressor Squadron, F-15Cs, Nellis AFB, NV
In addition to U.S. aircraft, the Royal Australian Air Force, flying an E-7 Wedgetail and F-18 Hornets, and the Royal Air Force of the United Kingdom, flying Typhoons, GR-4 Tornados, and an E-3D AWACS, participated in Red Flag 14-1.
Rating: N/A not an airshow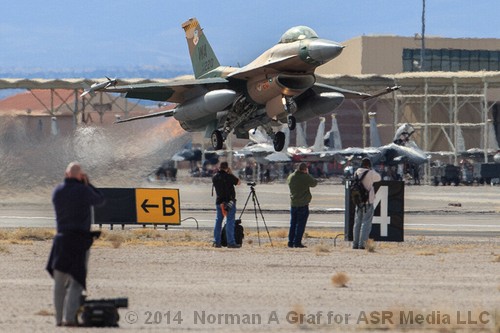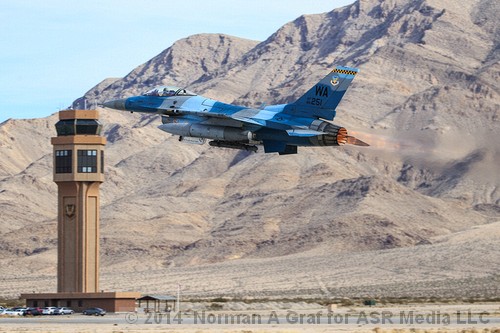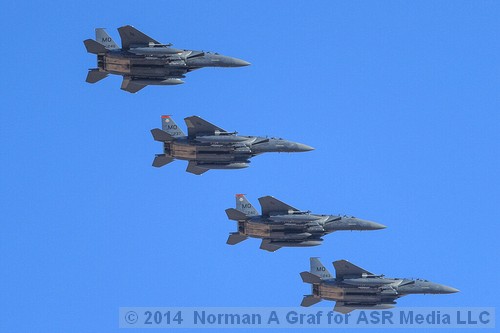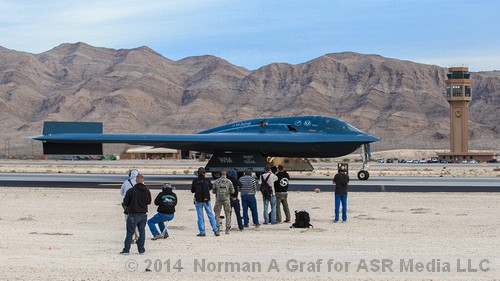 Review and photography by Norman A. Graf for ASR MEDIA LLC.