"We could go to war at any minute." It's a sobering thought, but one that is always in the back of the minds of members of the US Air Force's 414th combat training squadron, which is responsible for planning and controlling the Red Flag exercises held at Nellis AFB. Their mission is to maximize the combat readiness, capability and survivability of US and coalition forces by providing realistic training in a combined air, ground, space and electronic threat environment.

What began as a purely tactical training course designed to improve the dogfighting skills of fighter pilots has evolved into a complete warfighting exercise. The boldly marked F-15 and F-16 aircraft of the 64th and 65th Aggressor Squadrons are the most visible elements of the "Red" Forces, but as Lt Col Jon Berardinelli, Commander of the 57th Adversary Tactics Support Squadron described, it's much more than that. "Here at Nellis we have the Air Force's only professional adversary force. We take the four main domains as aggressors, that is, the air, the air defence, cyber and space and put all that together to provide a realistic and relevant replication of potential threats that might be encountered in actual combat." There is, however, a misconception that these exercises are designed to fight specific wars. In fact, the planners pick mission sets and core capabilities that span the entire breadth of what the Air Force does and trains to all those objectives. According to 1st Lt Chris Clements, 547th Intelligence Squadron: "We don't train against specific adversary countries. We make an entirely fictitious country, built from the ground up in order to present a realistic and credible threat and which addresses multiple concerns across multiple spectra. The main overarching story line is going to be the same, but the individual scenarios are customized to accommodate the different ability levels and the different capabilities that each platform brings to the fight." Despite the cancelation of last year's summer exercise, the future of Red Flag seems secure, explained Lt Col Grant, Deputy Commander, 414 CTS. "If you're going to have a smaller force, it's even more important that you invest in the right kind of training. You have all this money invested in equipment but it doesn't do you any good if you're not trained to use it. What happens here is you get your value out of those other investments by a little more investment in Red Flag. There are things that go on here that you literally cannot do anywhere else in the world and it's why people come here."
This, the second of three Red Flags planned for 2014, attracted squadrons from across the US, as well as participants from Belgium, Denmark, NATO and Saudi Arabia. In all, over 100 aircraft and approximately 2000 individuals from 18 units took part in the two-week exercise. We were privileged to participate in media activities, including photographing the launch and recovery of aircraft from between the runways and at the end-of-runway staging area.
ASR Media would like to thank the staff of the 99th Air Base Wing Public Affairs Office for all of their support during our visit, in particular Maj. Teresa Sullivan, 1st Lt Sarah Ruckriegle and A1C Monet Villacorte.
In addition to U.S. aircraft, the Belgian Air Component flew F-16AMs and C-130s, the Royal Danish Air Force flew F-16AMs and the Royal Saudi Air Force flew F-15Ss.
Rating: N/A not an airshow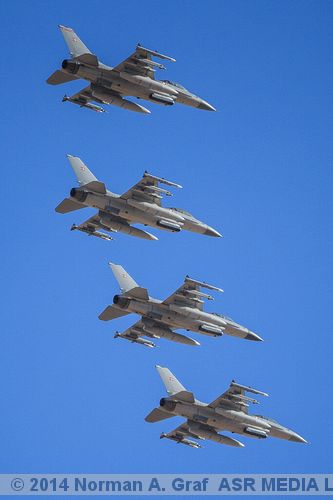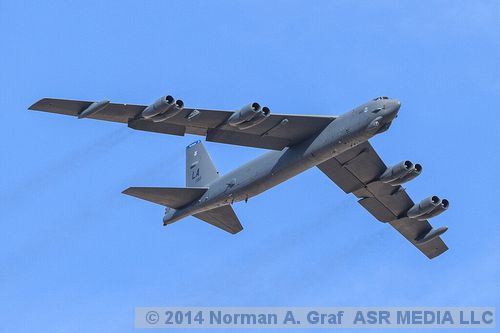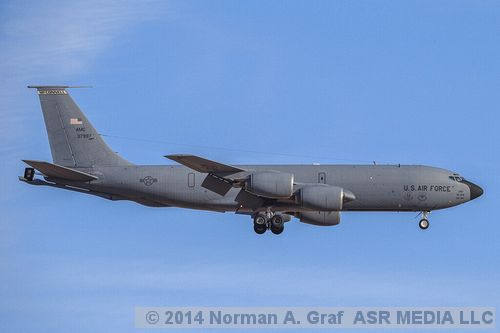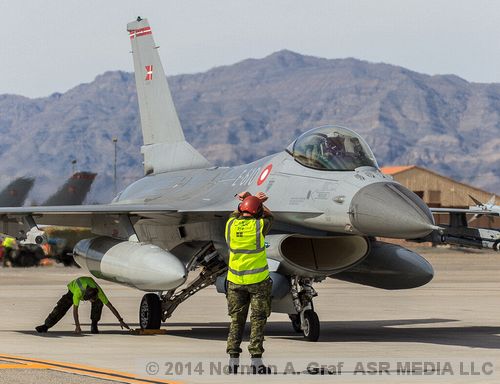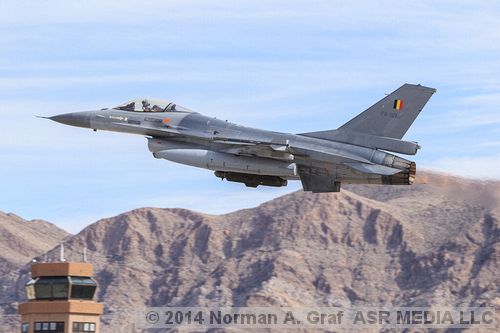 Review and photography by Norman A. Graf for ASR MEDIA LLC.