Meiringen
ICAO Code LSMM
Position 46°44´36´´ N 008°06´36´´ E
Runway 09 / 27
nearby Lake Brienz.
Buochs
ICAO Code LSZC/BXO
Position 46°58´29´´ N 008°23´56´´ E
Runway 07 / 25
nearby Stans, southeast Luzern
The Swiss Airforce from April 28 to May 16 conducted their Wiederholungskurs, WK (refresher course) exercise at Air Base Meiringen, Switzerland. 200 Airforce personnel and 700 militiamen (reserve) took part in the exercise. Aircraft assets included (8) F/A-18C/D Hornets from the Fliegerstaffel 11, and (8) F-5E/F Tigers from the Fliegerstaffel 8.

All the Swiss Hornets were flown by the full time airforce pilots, while the Tigers pilots were from the of militia.
The runway in Meiringen is from east to west and follows the contours of the valley. The taxiways are quite unusual, one of them that routes aircraft to and from the cavern on the south side, crosses a public road.
An essential part of the exercise in Meiringen was the relocation exercise REVITA 2014 from May 13. -15, 2014. Four Hornets and four Tigers were moved from Meiringen Air Base to the airbase of Buochs, a "standby nonpermanent airbase". To see if the the airforce is able to move during crisis quickly all the materials required for this non permanent and only minimally equipped airfield, in order that the flight operations can be performed without restrictions. Due to the bad weather, only 56 movements were carried from the 82 planned. Nevertheless, the exercise leader was "very satisfied" with the results according to Colonel, Peter Merz, Air Base Commander Meiringen of the Swiss Airforce.
The F-5 Tigers will not be seen for much longer..The fleet consists of 54 aircraft and they have been in service since 1978. The Tigers are only used during the day and in good weather, therefore, there is an urgent need for modernization. In 2016, the Tigers will be decommissioned and will be replaced by (22) Saab Gripen Es. Delivery will take place in the years 2018-2021.
ASR Media wishes to thank the Media and Communication organization, especially the officer of the pressservice, Mr. Jürg Nussbaum for his hospitality and perfect organization which was much appreciated.
Rating: no rating not an air show
Meiringen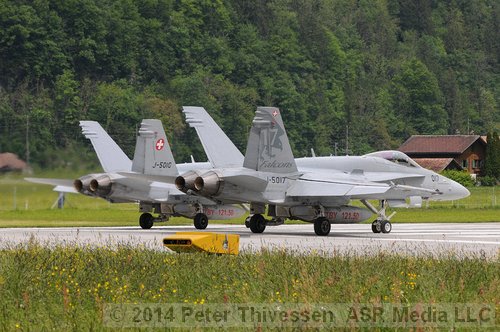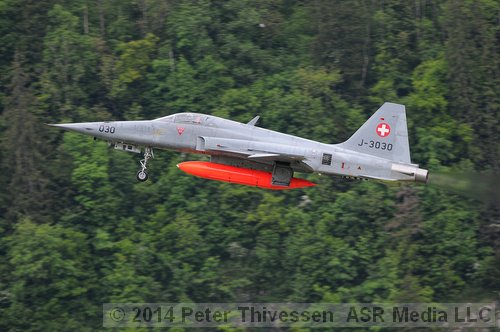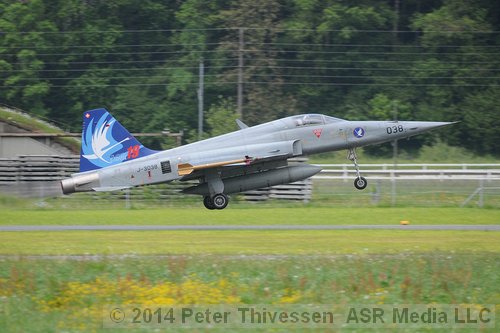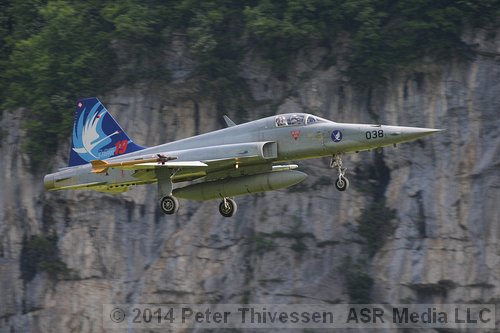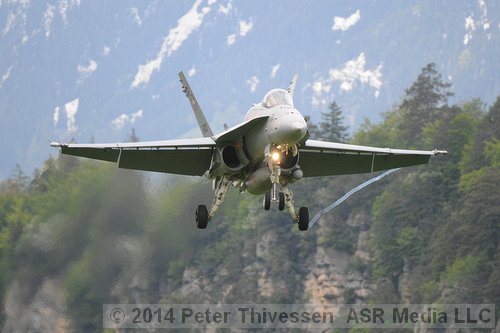 Buochs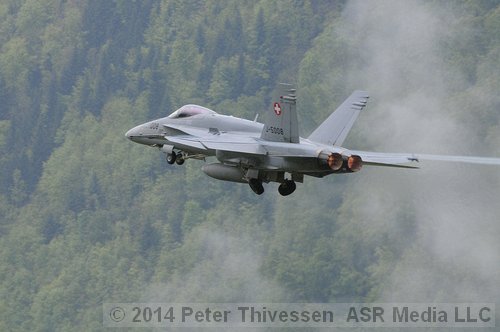 and like us! Click on above!
Review and photography by Peter Thivessen for ASR MEDIA LLC.