The 11th MAKS International Aviation and Space Salon was held at the Zhukovsky Airport, in the Moscow Region from August 27 through September 1, 2013. The first 3 days was for trade only. The last 3 days was open to the general public. The event is held every two years.
For people who love Russian aircraft MAKS is the best place to attend, as many of the aircraft seen at the show will not be appearing at any other shows outside Russia. This event also marked the public flying debut of the Sukhoi Su-30SM. It was also the only place the to see the PAK T-50 flying. The static included many rare Russian aircraft again the only place to see them, apart from Russian Aircraft Museum at Monino, near Moscow. There were only few aircraft from the West, such as the Airbus A380, F/A18 from the Swiss Air Force and the Dassault Rafale from France..
Amazing performances from the premiere Russian teams, the Russian Knights, with their Su-27P and Su-27UB and the Strizhi with their Mig-29s, as well as the Chinese August 1 st team with their J-10s for the first time flying in Russia. The Baltic Bees as well as the Breitling Jet Team performed.
The weather did not cooperate this year. It rained and it was overcast for most of the show, but it did not hold the public back. This year's attendance was a record breaker. Which became a problem at the end of the show as people exited the grounds to go to their cars. There was not enough buses to move the large number of spectators.
On trade days the flying as confined to only 1 to 3 hours. On public days the flying display was extended to 7 hours! Ticket prices ranged from $22 to $340 per day. The latter gives access to the media pit. Also a "priority ticket" was offered for $464 per day giving ticket holders many amenities. Parking was extra. Attending MAKS is expensive and can be chaotic, it is best if one speaks Russian or goes with a group. Several group tour operators offer such service for foreign visitors. Note that a Visa is required from most countries.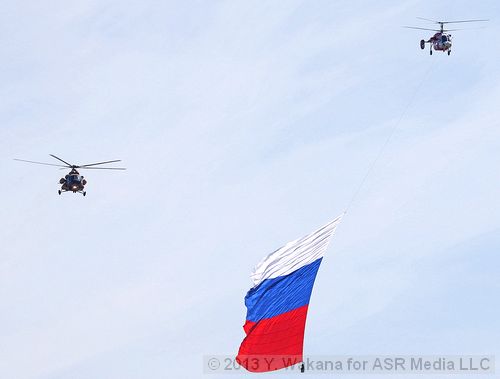 Some of the aircraft participated either as flying display or static:
Su-27P and Su-27UB,
Russian Knights
MiG-29

Strizhi team
Su-27

The Russian Falcons
Mi-28N Helicopter Demo Team
J-10

"August 1st"

Demo Team from China
L-39 Baltic Bees
L-39
Breitling Jet Team
F/A-18 Hornet

,

Swiss AF
Dassault Rafale French Air Force
Su-30SM
Su-34
Su-35M
Su PAK T-50
Mi-35M
Ka-52
TU-144
Mig-35
and too many others to list....
Rating: 8 out of 10