On Sunday June 22, 2014 the French Air Force celebrated its 80th anniversary at Base Aerienne 120 Cazaux. The action started on Friday, when the base hosted a Spotter's Day for 168 aviation enthusiasts to view and photograph aircraft on static display and in the air arriving and practicing for the show. Entrance to the show on Saturday was by invitation only, for family members and special guests that numbered 20,000!
BA 120 Cazaux also celebrated 100 years of operation during this event. It is located about 43 miles southwest of Bordeaux in the town of La Teste-de-Buch. The base trains French and Belgian pilots in Alpha Jets belonging to unit ETO 00.008 René Mouchotte, with ETO 1/8 Saintonge with 15 French Alpha Jets and ETO 2/8 with 15 Belgian Alpha jets. Among the squadrons in the base is Helicopter Squadron EH 1/67, flying Pumas and Caracals, and No. 150 Squadron of the Republic of Singapore Air Force, flying Aermacchi M-346s.
The flying display represented the rich history of the l'armée de l'air with aircraft such as MS 317, Morone 406, Yak 3, Dewoitine 520, Dassault Flamant, Nord Atlas, C-47, Fouga Magister, Alpha Jet, Epsilon, Transall, Casa, C135, Mirage F1, Mirage 2000 and the Rafale. On the ground there were several other French Air Force aircraft displayed from past and present, including the Jaguar, Mirage III, Mirage IV (nose), Mirage V, Xingu and Fokker 100.
One of the highlights of the day was the Ramex Delta flying their Mirage 2000N with a two-ship routine that demonstrates their maneuverability, capability and precision formation flying. Other highlights were the single displays of the French Air Force Rafale and the Royal Air Force Typhoon, each demonstrating the raw power of the latest fighter generation. The l'armée de l'air also demonstrated its capabilities to project its forces anywhere in the globe with a flyby simulating air refueling of two DAssault Rafales by a C135. Throughout the show there were performances of aerobatic teams from France and abroad: Frecce Tricolori from Italy, Patrulla Águila from Spain, Patrouille Suisse from Switzerland, Patrouille de France, Cartouche Doré and Equipe de Voltige from France.
Sunday, the public day, drew an estimated 40,000 people to the air base, although it felt like more. The show was very well organized. For some relief from the high temperatures, water bottles were distributed freely. There were plenty of food and souvenir vendors. This was a great air show overall.
ASR Media would like to thank Capitaine Christèle Chevalier, PA officer, and her assistant Mathilde Sauvage, and Lieutenant Antonia Buroni of SIRPA AIR for all their great hospitality and assistance.
Some of the participating aircraft:
Alpha Jet (Patrouille de France)
Mirage 2000N (Ramex Delta)
Rafale Solo Demo
Mirage 2000C
C160 Transall
EC 725 Caracal
AS550 Fennec
Mirage F1
C135
CN-235 Casa
(2) Dassault Flamant
Puma
M346 (Singapore)
MB 339 (Frecce Tricolori)
T-6
Typhoon
F-5E (Patrouille Suisse)
Pilatus PC 21
Casa C-101 ( Patrulla Águila)
TB 30 Epsilon
P-40
Dewoitine 520
P-51
Yak-3
Fouga Magister
DC-3
L-39C Breitling Jet Team
A400M*
F-16 (Belgian Air force)*
Mirage III*
Sepecat Jaguar*
Emb-121 Xingu*
* static only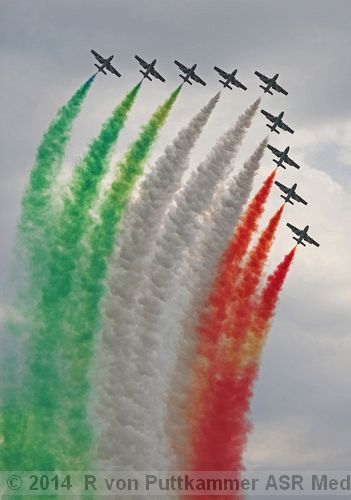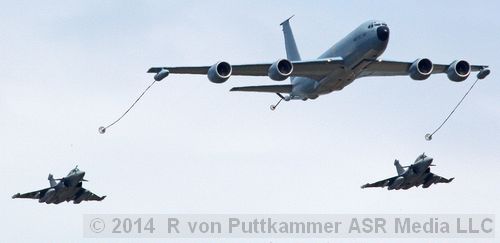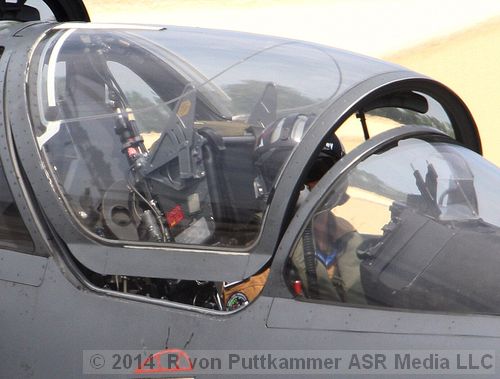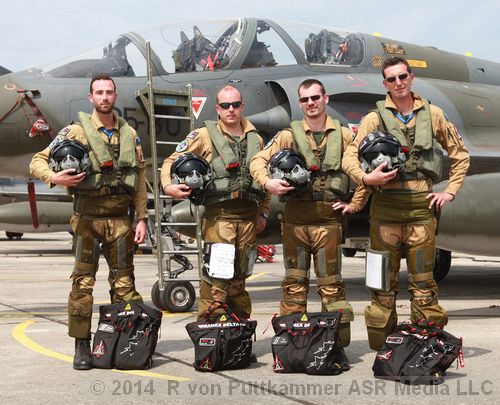 and like us! Click on above!