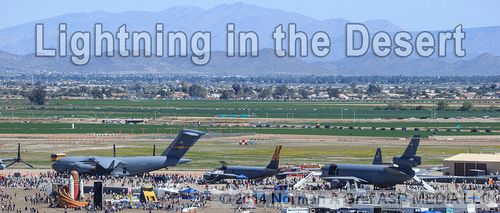 "Lightning in the Desert!" was the theme for this year's two-day Open House and Air Show at Luke AFB. Normally a biennial event, Luke Days 2014 was the first in three years, since last year's event was canceled due to sequestration and budget constraints. So even under normal circumstances, attendance would have been expected to be high. But this was no normal year. Just days before the airshow, Luke AFB had welcomed its first F-35A Lightning II and military aviation enthusiasts were looking forward to getting their first up-close look at this latest addition to the Air Force's inventory. Airshow fans were eagerly anticipating the inaugural demonstration by the Thunderbirds. And many in town for Major League Baseball spring training just wanted to come out and see what all the excitement was about. Whatever their reasons for attending, there was something for everyone. And one thing's for sure: it was a great show!

The gates at this highly anticipated show opened at 0900 to throngs of eager visitors. They were greeted by an expansive tarmac filled with an extensive collection of aircraft on static display. First were the warbirds from World War II: a P-51D Mustang "Bum Steer," B-25J Mitchell "Maid in the Shade," B-17G Flying Fortress "Sentimental Journey," a C-47 Skytrain, C-45 Expeditor and TBM Avenger. The Korean War was represented by a brightly painted MiG-15 and a bare-metal T-33, and a beautiful Vietnam War-era A-4K Skyhawk was also there. Other civil aircraft were in attendance as well, whether private or from police and other official organizations.
But the planes which attracted the most attention by far were the current military aircraft. Over a dozen different types from multiple services were on display and most were open to the public. Obviously AF 11-5030, the 100th Joint Strike Fighter built and the first to appear with an LF tail code, attracted the most interest. The first of an eventual 144 Lightning IIs scheduled to be based at Luke AFB, it had arrived only days before and its status had been listed as "tentative" on the airshow web page. Excitement was therefore high to see it in person. Personnel from the 61st Fighter Squadron "Top Dogs" were on hand to answer the non-stop questions from the crowds of people. Parked right next to it was the other fifth-generation stealth fighter, the F-22 Raptor, and it attracted only a fraction of the interest! Nearby, each of the F-16 squadrons based at Luke had a Viper on display and personnel selling unit swag and answering questions. Kudos to the show organizers for arranging the large number and variety of visiting military aircraft: trainers, fighters, ground attack, helicopters, drones, cargo and tankers were there. The only type missing was the heavy bombers. The ground-pounders included an F-15E Strike Eagle of the 366 FW "Gunfighters" from Mountain Home AFB, an A-10C Thunderbolt II of the 358 FS "Lobos" from Davis-Monthan AFB and an extremely rare AC-130W Stinger II of the 27 SOW from Cannon AFB. Also from New Mexico was a German Air Force Tornado from Holloman AFB. The "heavies" were all open for tours and attracted long lines of visitors, even during the flying. These included a KC-10 Extender of the 60th AMW from Travis AFB, a C-17 Globemaster III of the 97th AMW from Altus AFB, a C-130J Super Hercules of the 314 AW from Little Rock AFB, and a colorful KC-135R Stratotanker from the Phoenix-based AZ ANG, with the bright Arizona emblem on its tail. Vertical take-off fans could tour both the MV-22 Osprey of VMM-161 "Greyhawks" from MCAS Miramar or the beautiful Coast Guard MH-65C Dolphin from Los Angeles. There was barely enough time to see all the aircraft, let alone engage the crewmembers and maintainers, before the flying started at 1100.
The USAF Parachute team, Wings of Blue, opened the airshow portion of the open house. For the next five hours the flying was non-stop, with expert narration by Matt Jolley. Aerobatic acts included Matt Chapman in the Eagle 580, Mike Goulian in the Extra 330, Julie Clark in the T-34 Mentor, and the Firebirds XTreme. Warbird aerobatics were provided by Greg "Wired" Colyer flying his beautiful T-33 Shooting Star "Ace Maker." The Bremont Horsemen (Steve Hinton, Dan Friedkin and Ed Shipley) amazed the crowds with precision formation flying in both a three-ship of P-51 Mustangs and again in a pair of F-86 Sabre jets. Another Mustang demonstration was put on by Doug Rozendaal, flying the P-51C "Tuskegee Airmen." The MV-22 Osprey tactical demonstration was put on by members of VMM-161 "Greyhawks" from MCAS Miramar. A superb exhibition of close air support, including pyrotechnics, was put on by several F-16s of Luke's own 310th Fighter Squadron "Tophats" along with Marines on the ground.
The highlight of the show for most people in the audience was the Thunderbirds. But for the legions of spectators who had traveled from around the US and overseas for a chance to catch a glimpse of the Joint Strike Fighter, even if only on static display, by far the most exciting part of the day was when an F-35 taxied out to the runway and took off, soon to be joined by a P-38J. In an amazing and totally unexpected Heritage Flight, Col. Todd "Tales" Canterbury, Commander of the 33rd Fighter Wing, Eglin AFB, flew the F-35A Lightning II while Steve Hinton flew the P-38J Lightning "23 Skidoo" in close formation. Lightning strikes twice! The F-35 returned soon thereafter with an F-16 on its wing, representing the present and future of fighters at Luke, and made a number of passes. The Viper, flown by F-16 Heritage Pilot Major Mark "Juice" Whisler, was later joined by Steve Hinton in the P-38 and Dan Friedkin in an F-86E.
On Saturday, a haboob (desert dust storm) had blown in right before the Thunderbirds were to take off, delaying them by half an hour. But Sunday's performance went off without a hitch, amazing and delighting their fans with their aerial demonstration. Their 2014 season was off to a great start!
Hosting an open house and putting on an airshow is expensive, both in terms of dollars and manpower, and despite the return of military involvement in airshows, Luke AFB was one of just three bases in Air Education and Training Command scheduled to have an open house in 2014. But as Brig. Gen. Mike Rothstein, 56th Fighter Wing Commander, explained: "We got 360,000 people to be able to understand airpower. More important, they had the opportunity to understand the great Airmen we've got, and to see their pride and professionalism. I think the return on investment was priceless." That's correct, over a third of a million people converged on the base for the two-day event, shattering the previous record of 250,000 and far exceeding early attendance projections
ASR Media would like to thank the staff of the 56th Fighter Wing Public Affairs Office for all of their support during our visit, in particular Capt. Ryan DeCamp and Tech. Sgt. Scottie McCord
Performances included:
Lightning Heritage Flight: F-35A Lightning II and P-38J Lightning
F-35A Lightning II and F-16C Fighting Falcon Flight
ACC Air Force Heritage Flight: P-38J, F-86E, F-16C
USAF Thunderbirds
USAF Wings of Blue Parachute Team
F-16C Close Air Support Tactical Demonstration
MV-22 Osprey Tactical Demo, VMM-161 "Greyhawks", MCAS Miramar
Bremont Horsemen F-86: "Hell-er Bust X," "FU-012"
Bremont Horsemen P-51: "Fragile but Agile," February," "Double Trouble two"
Viper Race: Dodge SRT Viper vs. F-16 Viper
Deer Valley Warbirds, 4x CJ-6
Matt Chapman, Eagle 580
Mike Goulian, Extra 330
P-51C Red Tail " Tuskegee Airmen"
Greg "Wired" Colyer, T-33 "Ace Maker"
Julie Clark, T-34 Mentor
Aircraft on static display included:
A-10C Thunderbolt II, 358 FS "Lobos", Davis-Monthan AFB
AC-130W Stinger II, 27 SOW, Cannon AFB
C-17 Globemaster III, 97th AMW, Altus AFB
C-130J Super Hercules, 314 AW, Little Rock AFB
F-15E Strike Eagle, 366 FW "Gunfighters", Mountain Home AFB
F-22A Raptor, 7 FS "Screamin' Demons", Holloman AFB
F-35A Lightning II, 61 FS "Top Dogs", Luke AFB
F-16C/D Fighting Falcon, multiple units (see text)
F/A-18B Hornet, NASA, Dryden Flight Research Center
Tornado, German Air Force, Holloman AFB
KC-10 Extender, 60th AMW, Travis AFB
KC-135R Stratotanker, AZ ANG, Phoenix
MQ-1Predator
MV-22 Osprey, VMM-161 "Greyhawks", MCAS Miramar
T-1 Jayhawk, 86 FTS " Rio Lobos", Laughlin AFB
T-6A Texan II, 80 FTW, Sheppard AFB
T-38A Talon, 99 RS, Beale AFB
T-38C Talon, 469 FTS, Sheppard AFB
A-4K Skyhawk, Draken
B-17G, Flying Fortress "Sentimental Journey", AZ Wing, CAF
B-25J Mitchell "Maid in the Shade", AZ Wing, CAF
C-45 Expeditor, Mesa Warbirds
C-47, Mesa Warbirds
Cessna 172, 182, Beechcraft
L-29 Delfin
L-39 Albatros
MiG-15 Fagot
O-2A Skymaster
P-51D Mustang "Bum Steer"
AT-6 Texan
T-28C Trojan
T-33 Shooting Star
T-34 Mentor
TBM Avenger
and many more…
Rating: 10 out 10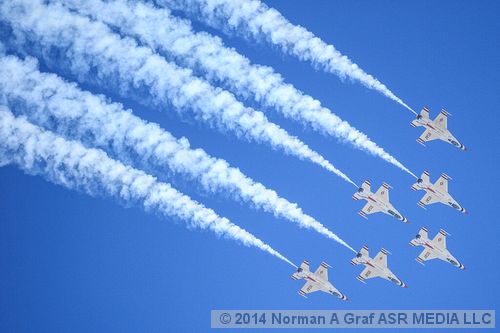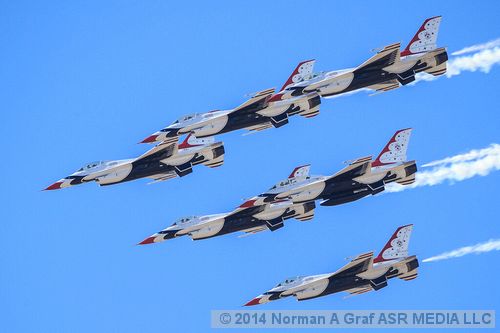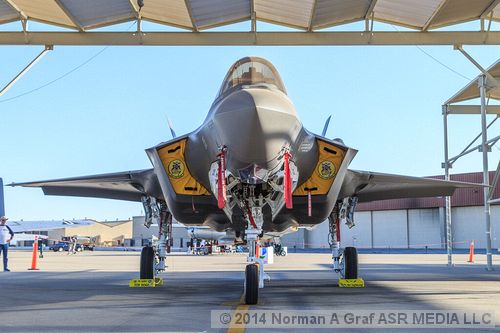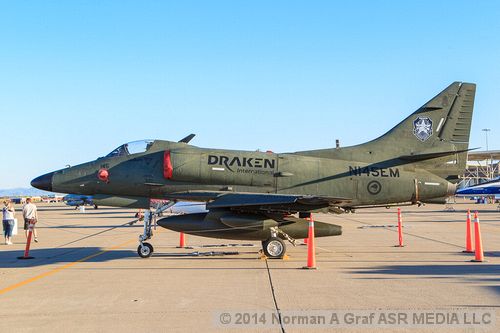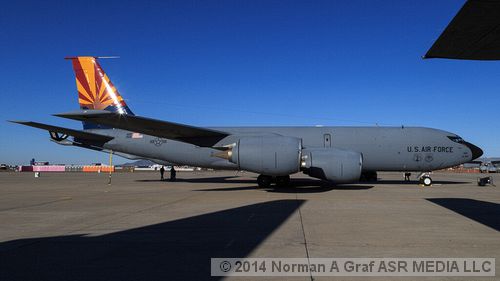 and like us! Click on above!
Review and photography by Norman A. Graf for ASR MEDIA LLC.