Muroc Lake, Edwards AFB, Mojave, Plant 42, NASA Dryden Flight Research Center, Scaled Composites; L-1011 Tristar, F-117 Nighthawk, B-1 Lancer, B-2 Spirit, Spaceship One. And the list goes on. Antelope Valley in Southern California has a long and storied history of aerospace innovation and development. So it is surprising that the last airshow in the area was the 2009 show at Edwards AFB. Local organizers finally took it upon themselves to remedy this situation and, as a result, the inaugural Los Angeles County Airshow took place at William J. Fox Airfield in sunny Lancaster, CA, on March 21 and 22. Originally envisioned for the fall, organizers were quick to reschedule when the cancelation of the airshow at March ARB freed up a slot in the Blue Angels' calendar. (The unusual Friday and Saturday dates were also a result of this rescheduling.) In addition to the U.S. Navy's Flight Demonstration Squadron, the solid four hours of flying featured warbirds from World War II, Korea and Vietnam as well as thrilling aerobatic displays. In addition, a number of aircraft on static display and a multitude of interactive and educational exhibits provided plenty to see and do on the ground.

The gates opened at 0900 (although an early-bird photo tour gave photographers an opportunity for sunrise shooting). Close-in parking was handled well by a large cadre of volunteers. Pre-purchased tickets kept the lines at the ticket booths short and security was well-managed. Taking pride of place just inside the entrance was the futuristic Proteus from Scaled Composites. Other aircraft on static display were at show right, while corporate and VIP chalets were arrayed at show left; the Blue Angels were parked directly at show center. In addition to a large variety of food, beverage and airshow vendors, there were quite a few educational and outreach displays. Chief among these were the NASA tent and Lockheed Martin's STEM (Science, Technology, Engineering and Math) pavilion, featuring not only corporate displays but a number of school programs as well.
The flying began with the Red Bull Parachute team bringing in the flag while being circled by Kirby Chambliss in the Edge 540. Strong, gusting winds affected Friday's performances, but Saturday was a perfect day for an airshow: CAVU, calm winds and temperatures in the low 70s. Kicking off a long line of warbirds was the B-25J Mitchell "Executive Sweet," which made several low-level passes. Steve Oliver started off the aerobatic performances with a really nice demonstration of the capabilities of the de Havilland Chipmunk. His wife, Suzanne Asbury-Oliver, the nation's only female professional skywriter, had been entertaining the crowds earlier in the morning with her smiley faces and writing in the sky. Then, in keeping with the intimate nature of this show, a demonstration of formation flying was put on by four of the locals: a Yak-52 led two Thorp T-18 Tigers and an RV-8 in a series of changing formations.
"NASA operates two Lockheed ER-2 Earth resources aircraft as flying laboratories in the Airborne Science Program under the Agency's Science Mission Directorate. The aircraft, based at NASA's Science and Aircraft Integration Facility in Palmdale, CA, collect information about Earth resources, celestial observations, atmospheric chemistry and dynamics, and oceanic processes. The aircraft also are used for electronic sensor research and development, satellite calibration, and satellite data validation." That down-to-earth description from NASA's fact sheet doesn't come close to capturing the beauty of the aircraft or the raw power and climbing ability of this amazing plane. NASA 806 performed several passes as it spiraled down from altitude. Making one final low-level pass, it zoom-climbed with an incredible roar and quickly disappeared from view in a performance as unforgettable as it is rare.
It's hard to believe that the Northrop N9MB Flying Wing is seventy years old. Built as a scaled down prototype for the XB-35 bomber, it was first flown at Muroc Army Airfield (now Edwards AFB). So it was fitting that it flew during the show, pilot Ron Hackworth banking sharply as he passed by to show off the unusual planform. The T-33 Shooting Star was also developed and tested locally, being a product of Lockheed's jet center in nearby Palmdale. Greg "Wired" Colyer put on a lovely aerobatic demonstration in "Ace Maker," then raced Bill Braack in his Smoke-N-Thunder jet car before landing. Then it was back to aerobatics as Chuck Coleman, a local resident, put his Extra 300L through its paces. Shortly thereafter the West Coast Ravens put on an impressive demonstration of formation flying in their six Vans RV aircraft, showing that precision formation flying is not just the purview of military jet teams. The Commemorative Air Force's Red Tail Squadron P-51C, which had been on static display in the morning, also took part in the flying. Brad Lang put on a graceful demonstration in the "Tuskegee Airmen" Mustang.
The Planes of Fame Museum put on a sterling re-enactment of a Korean War battle, complete with ground troops and vehicles. Beginning with an AT-6 forward air controller guiding a convoy of jeeps, the engagement soon escalated when a Yak-3 piloted by Steven Hinton dove in to attack. A Corsair and Mustang were soon scrambled to provide cover. The appearance of a Mig-15, flown by Chris Fahey, was countered shortly thereafter by the F-86 Sabre and the two early jets were soon dogfighting in the beautiful blue skies over Lancaster. All of the aircraft made numerous passes, banking nicely for top-side shots by the photographers in the audience. The display ended with a Heritage Flight: Kevin Eldridge in the Sabre and John Hinton in the Mustang "Wee Willy II." Another pair of jets soon graced the skies, this time two boldly striped A-4K Skyhawks from Draken International. Flown by Dale "Snort" Snodgrass and Mike "Shooter" Smith, the two aircraft at times seemed glued together. They were definitely giving the Blue Angels a run for their money in terms of sticking together!
The Red Bull Air Force was there in force and now took off en masse. Chuck Aaron took the parachute team up and the jumpers leapt off the helicopter and put on an amazing display of aerial maneuvers in their wingsuits, all the while being circled by Kirby Chambliss. Kirby then put on a hard-charging, explosive show, demonstrating clearly why he is a five time U.S. National Aerobatic Champion. " Malibu" finished up with his one-of-a-kind helicopter aerobatic performance.
And then it was time for the show headliners. "Fat Albert," the team's Marine-crewed transport and support aircraft warmed up the crowd with its amazingly nimble flight demonstration. (The C-130 was also designed and built locally by Lockheed and flight tested at Edwards AFB.) The Blue Angels, fresh from their winter training at NAF El Centro, put on what was only their second and third performances of the 2014 season yet had all the polish of a season-ending show. It's great to have them back.
On Friday, despite strong winds with gusts over 35mph and it being a weekday, attendance was estimated at around 40 thousand. The weekend brought better weather and roughly twice as many visitors. Airshow announcer Ric Peterson and Air Boss Ralph Royce did a great job of narrating and scheduling the action. It was a terrific start to what is hopefully a long series of airshows in the " Aerospace Valley." Congratulations and thanks to the organizers, sponsors and volunteers (many from Edwards AFB) for pulling together such a stellar lineup and putting on such a great show in so little time. We can't wait to come back and see what's in store for next year.
Performances included:
U.S. Navy Blue Angels
C-130T Hercules "Fat Albert"
A-4K Skyhawk, Draken International
B-25J Mitchell "Executive Sweet"
NASA ER-2, Dryden Flight Research Center
Greg "Wired" Colyer, T-33 Shooting Star "Ace Maker" Aerobatics
Steve Oliver, de Havilland Chipmunk "Skydancer" Aerobatics
Local Formation Flying Demonstration
Chuck Coleman, Extra 300L Aerobatics
Korean War Re-enactment

F-86 Sabre
MiG-15 Fagot
Yak-3U
AT-6 Texan
F4U-1 Corsair
P-51D Mustang "Wee Willy II"

Chuck " Malibu" Aaron, Red Bull Helicopter Aerobatics
West Coast Ravens: RV Aircraft Formation Flying Demonstration
CAF Red Tail Squadron P-51C Mustang " Tuskegee Airmen"
Northrop N9MB Flying Wing
Bill Braack, Smoke-N-Thunder Jet Car
Kirby Chambliss, Red Bull Edge 540 Aerobatics
Red Bull Wingsuit Flyers
Heritage Flight: F-86 Sabre and P-51D Mustang
Aircraft on static display included:
P-38J Lightning "23 Skidoo"
T-28 Trojan
Scaled Composites Model 281 Proteus
Aérospatiale Gazelle
F/A-18B Hornet, NASA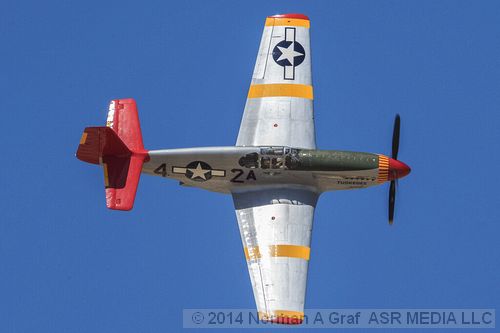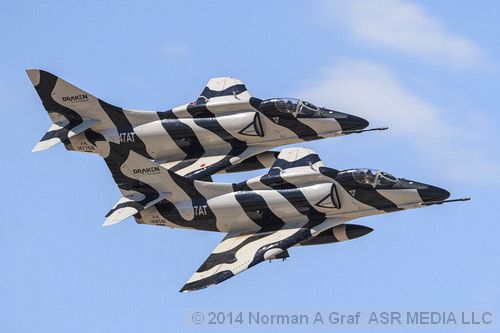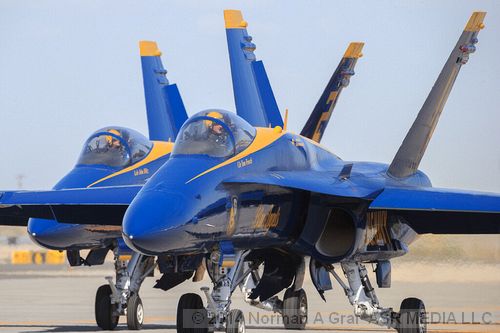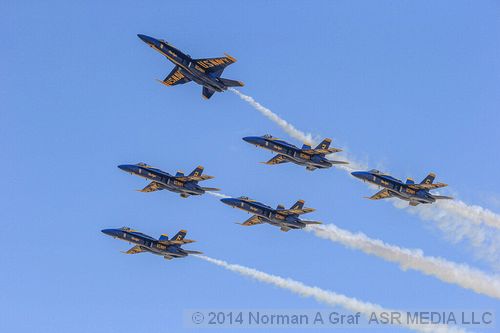 and like us! Click on above!
Review and photography by Norman A. Graf for ASR MEDIA LLC.