The 2014 Air Combat Command Heritage Flight Training and Certification Course took place at Davis-Monthan AFB from February 25 through March 3.

The mission is to train civilian pilots of historic military aircraft and Air Force pilots of current fighter aircraft to safely fly formations together. This year's warbirds included (4) P-51 Mustangs: "Fragile but Agile," "February," "Bum Steer," and " Double Trouble Two"; (1) P-40 Warhawk; (1) P-38 Lightning: "Thoughts of Midnite;" (1) P-47G Razorback Thunderbolt: "Snafu" and (2) F-86 Sabrejets; "Hell-er Bust X," and one in 4th fighter interceptor wing colours. The ACC aircraft included (2) F-22 Raptors and (2) F-16 Fighting Falcons.
The media day was held on February 28th from 8 AM to 9:15 AM for statics, and with another hour for interviews, and around 10:45 AM all were taken back to the parking lot.
ASR Media managed to take a group photo of the F-22 ground team but unfortunately without the pilot. We could not get an interview with any of the Heritage Flight civilian pilots despite several requests through the Public Affairs Office.
While it is always a great opportunity to photograph static warbirds, it would have been much better to photograph them in the air in formation with the F-22 or with the F-16. However, for some unknown reasons, for 2014 this opportunity was not available!!!! If one was motivated one could take some photos from outside of the base, and we were, but a long lens with a focal length of 600mm was the minimum requirement to get any kind of semi-decent images. But, even with such focal length the resulting images were far from quality photographs: due to the distance the aircraft remained quite small and were subjected to heat haze distortion.
Unlike in previous years when greater access and opportunities existed, for 2014 we were very limited and when taking everything into consideration the overall experience for us was far from the best.
We wish to thank particularly Captain Susan Harrington and SSgt Angela Ruiz of the Public Affairs Office at Davis-Monthan for all of their assistance and their effort to turn a lemon into lemonade. We sincerely hope that for 2015 the Air Combat Command Heritage Flight Training and Certification Course media day will be a more positive experience for all the media.
Rating: N/A not an airshow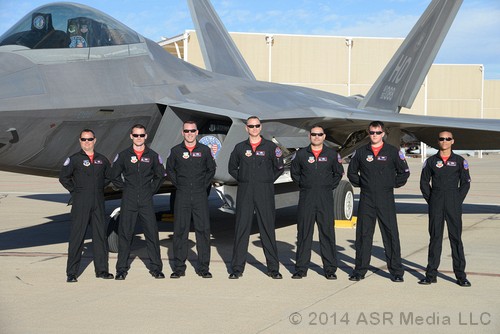 L to R: TSgt. Harrison Soutworth, SrA. Justin Hubbard, TSgt. Jonathan Billie, MSgt. Jason Kraemer, TSgt .Roberto Morales, SrA. Mathew Barr, SrA. Gabriel Brooks
The images below are cropped and were taken outside of the AFB.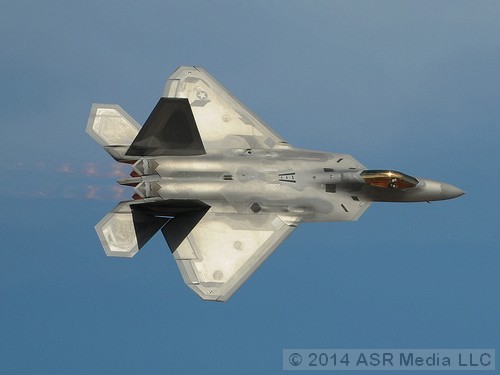 and like us! Click on above!
Review and photography by the ASR MEDIA LLC.