The theme for the 2014 "Thunder & Lightning over Arizona" Open House at Davis-Monthan AFB was "Honoring the Past, Inspiring the Future." The two-day event paid tribute to our veterans and heritage while at the same time looking forward. Aerial performances included warbirds, aerobatic aircraft, helicopters, a combat search and rescue demonstration and culminated with the Thunderbirds. The ramp was filled with an equally broad and disparate selection of aircraft on static display, highlighted by a long row of USAF bombers, tankers, transport, attack and electronic warfare aircraft. In short, everything needed for a top-notch airshow!

Spring weather in the great Southwest can be tricky, and this weekend was no exception.Saturday was overcast with afternoon winds gusting so hard that the Thunderbirds were unable to fly their demonstration, whereas Sunday dawned clear and cloudless for a perfect airshow day. (That's why airshow enthusiasts do their best to schedule multiple days for an airshow!) Yet despite the weather and the number of other activities scheduled for that weekend in Tucson, roughly 300,000 people turned out for the Open House. Access to the base was handled very well, with parking close-in to the tarmac. Both parking and security checks were speedy and efficient, meaning that visitors had plenty of time to view the extensive assembly of aircraft on static display or visit exhibits arranged all along the flightline. Just inside the gate, visitors were greeted by a long line of "heavies" : C-17 Globemaster III, KC-135R Stratotanker, RC-135S Cobra Ball, B-52H Stratofortress, AC-130H Spectre, B-1B Lancer, C-5A Galaxy, almost all of which were open for tours. Long lines throughout the day attested to the attraction that both the aircraft and the opportunity to interact with the aircrews had on the crowds. A parallel row of aircraft included the EC-130H Compass Call, HC-130J Combat King II, A-10C Thunderbolt II and HH-60G Pavehawk, all based at Davis-Monthan.
Most of the remaining aircraft on static display were housed under shade ramadas at show left. These included current military such as F-16C Fighting Falcon, F-15E Strike Eagle, MC-12W Liberty, T-1A Jayhawk, T-38 Talon and two Army helicopters, the AH-64 Apache and UH-72 Lakota. Famous retired military aircraft, such as the F-14 Tomcat and F-4 Phantom II and a former Blue Angel F-18, were towed over from the 309th Aerospace Maintenance and Regeneration Group (AMARG) "boneyard." A number of warbirds were also in attendance, some having flown in, others having been towed over from the Pima Air & Space Museum. Special thanks to the organizers for having assembled such a large number of aircraft representing such a broad variety of types and vintages. There were so many aircraft on static display that it was a challenge to see them all before the flying began.
The flightline is very long and, except for some reserved areas such as the Flightline Club, Beer Garden and VIP pavilions, open for spectators. Unlike most airshows, folding chairs were not allowed through the gates, but rental chairs were available for a $5 fee. Some small bleachers were available free of charge, and shade was available either under the wings of the larger aircraft on display or under the protective ramadas for the smaller aircraft. A large "Kid's Zone" featured multiple bounce houses, plenty of portable toilets were distributed throughout the area, and free water was also available from military "Water Buffaloes." Lots of souvenir and food vendors were distributed throughout the grounds.
But of course the main attraction of the Open House was the Airshow, and it started promptly at 1100 with a jumper from the USAF Academy's Wings of Blue parachute team flying in the American flag. Will Allen, "the Flying Tenor," sang the national anthem while circling in his Pitts S2, then went on to fly his aerobatic performance to start off the day's flying. Several more members of the Wings of Blue then parachuted in, each bringing in a different service flag. They would perform once more later in the day, demonstrating their aerial skills with high speed maneuvers in freefall as well as precision canopy flight. The flying resumed with Jacquie Warda putting on a fabulous aerobatic performance in her beautifully painted Extra 300. The colors of the iridescent stars on the bright red aircraft morphed as the angle of view changed. And she flew the plane through pretty much every angle in the sky. Loops, rolls, spins, tail slides, inverted flight: you name it, Jacquie B nailed it. She would return later in the day to race Bill Braack in the Smoke-N-Thunder jet car. Kent Pietsch put on three separate performances, starting off with his comedy routine impersonating a complete novice invading the air space with his zany flying, followed later by landing on the world's smallest aircraft carrier (a pickup truck) and his always-impressive energy management routine where he kills the engine at 6,000 feet then brings the aircraft to a stop on the runway with the spinner touching the outstretched hand of the airshow announcer. Chuck Aaron, flying the Red Bull helicopter, rounded out the civilian aerobatic performances. ASR media was privileged to fly along with Chuck during media day, see our review of that fantastic experience in our upcoming issue of The Magazine.
Next up was a vehicle interdiction simulation by the Customs and Border Patrol. They demonstrated how a suspected smuggler would be apprehended. An agile Eurocopter AS 350 intercepted a speeding automobile at almost ground level, after which a UH-60 Blackhawk arrived on the scene. Officers fast-roped down to apprehend the suspect and turn him over to police officers who had been in fast pursuit in their squad cars. The warbird portion of the show commenced with flybys of a B-25J bomber, "Maid in the Shade," and its P-51D Mustang fighter escort "Lady Alice." The Mitchell had been sponsored by the Disabled American Veterans. The DAV had both aircraft on static display as well as a booth set up to offer their services to veterans or their families in attendance. The Desert Rats Formation Team then took to the skies, performing a series of tight flybys in their four Nanchang CJ-6s.
Finally it was time for the home team to show what they could do. The Desert Lightning Team put on an impressive display of combat and airpower capabilities with a simulated Combat Search and Rescue mission. The CSAR operation demonstrated how a Marine on the ground would be protected and recovered, even in the face of enemy combatants. Four A-10s from the 354th Fighter Squadron were scrambled, with the Thunderbolt IIs taking off in section flights. An EC-130H Compass Call from the 43d Electronic Combat Squadron took off to disrupt enemy command and control communications. Two HH-60G Pave Hawk helicopters from the 55th Rescue Squadron carrying pararescuemen from the 48th RQS passed over, simulating an in-flight refueling from an HC-130J Combat King II from the 79th RQS. The four A-10s performed a number of strafing and bombing runs accompanied by pyrotechnics on the ground. With the area now secured, the two helicopters flew in low and fast, flared to a stop and hovered as the rescue team fast-roped to the ground. The A-10s remained to provide top cover, flying an impressively choreographed series of clover-leaf patterns over the rescue area. The serviceman was quickly hoisted to the hovering Pave Hawk, the rescue team was recovered and the helicopters quickly departed the scene. A pass-in-review by the A-10s ended with a very precise two-second series of breaks-to-land. With the apparent demise of Air Combat Command's A-10 demonstration teams and the very future of the Thunderbolt II in doubt, this may well have been the last time to see them perform at an airshow. If so, it was a perfect way to depart.
Then it was time for the headline act, the USAF Thunderbirds, to begin their aerial demonstration. On Saturday the team taxied out, ready to perform, but unfortunately the gusting crosswinds remained above safe limits, so they were forced to return after a while. Sunday's weather was perfect for a high show, and the sky was soon filled with the precision flying of the diamond formation and thrilling opposing passes by the solos. The transition to the delta formation of all six aircraft signaled the close of their performance. It's early in the season, but the team's maneuvers and timing are already honed by months of winter training. After the show and following a short debrief the team members came to the flightline to sign autographs and answer questions from the audience.
There was still plenty of time to view the aircraft on static display, interact with aircrews, or grab a bite to eat or something to drink before heading to the parking lot. We'll see you back in Tucson in 2016!
We would like to express our thanks and sincere appreciation to the 355th Fighter Wing Public Affairs Office for their outstanding hospitality and assistance during the Open House, in particular Capt. Harrington, 2d Lt. Ranaweera and SSgt Ruiz and let's not forget Air Show Director Maj. Smiley. The 2014 Open House and Air Show was one of the best that Davis-Monthan AFB has ever had.
Performances included:
USAF Thunderbirds
USAFA Wings of Blue Parachute Demonstration Team
Desert Lightning Team Combat Search and Rescue Demonstration:

A-10C Thunderbolt II, 354th FS "Bulldogs"
EC-130H Compass Call, 43d ECS
HC-130J Combat King II, 79th RQS
HH-60G Pave Hawk, 55th RQS "Night Hawks"
Pararescuemen, 48th RQS "Night Riders"

Customs and Border Patrol Vehicle Interdiction Demonstration

Eurocopter AS 350
UH-60A Blackhawk

Desert Rats, CJ-6 Formation
B-25J Mitchell "Maid in the Shade"
P-51D Mustang "Lady Alice"
Chuck " Malibu" Aaron, Red Bull Helicopter Aerobatics
Bill Braack, Smoke-N-Thunder Jet Car
Will Allen "The Flying Tenor" Pitts S2-B Aerobatics
Jacquie B Airshows Extra 300 Aerobatics
Kent Pietsch Interstate Cadet Aerobatics
Aircraft on static display included current military:
A-10C Thunderbolt II, 47th FS, Davis-Monthan AFB
B-1B Lancer "Dark Knight", 9th BS "Bats", Dyess AFB
B-52H Stratofortress "Peace Persuader", 23d BS "Bomber Barons", Minot AFB
AC-130H Spectre "Heavy Metal", 16th SOS, Cannon AFB
HC-130J Combat King II, 79th RQS, Davis-Monthan AFB
EC-130H Compass Call, 41st ECS, Davis-Monthan AFB
C-17 Globemaster III "Spirit of Solano", 60th AMW, Travis AFB
C-5A Galaxy, 433d AW, Lackland AFB
AH-64, US Army
UH-72A Lakota, US Army
F-16C Fighting Falcon, 182d FS "Lonestar Gunfighters", Joint Base San Antonio
F-15E Strike Eagle, 389th FS "Thunderbolts", Mountain Home AFB
KC-135R Stratotanker, 161 ARW, AZ ANG, Phoenix
RC-135S Cobra Ball, 55th Wing, Offutt AFB
T-38A Talon, 99th RS, Beale AFB
T-38C Talon, 469th FTS "Fighting Bulls", Sheppard AFB
MC-12W Liberty, 427th RS, Beale AFB
T-1A Jayhawk, 86th FTS, Laughlin AFB
Plus warbirds such as:
B-17G Flying Fortress "Sentimental Journey"
B-25J Mitchell "Maid in the Shade"
C-47 Skytrain
P-51D Mustang "Lady Alice"
And many more…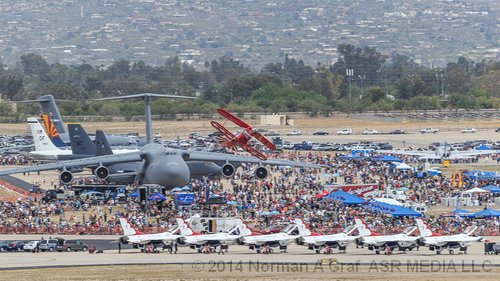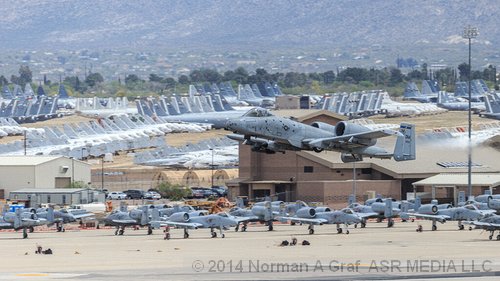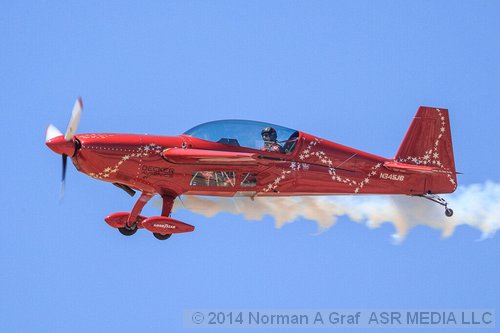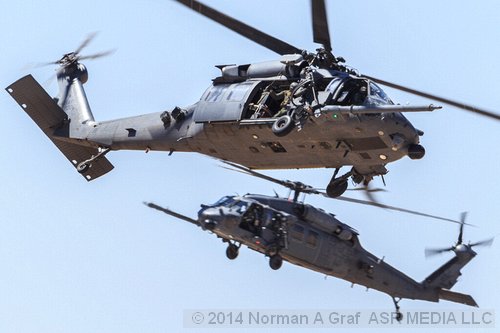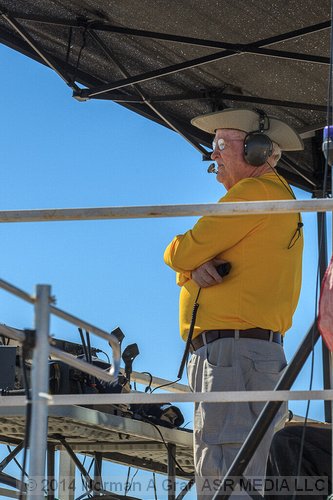 and like us! Click on above!
Review and photography by Norman A. Graf for ASR MEDIA LLC.