The Planes of Fame museum in Chino, California, honored the history and contributions of the men, women, and aircraft of the 8th Air Force in World War II during its annual airshow May 3-4. "A Salute to the Mighty Eighth" featured more than forty warbirds in the air and a panel discussion with several veterans in attendance. In addition to the historic aircraft, the airshow featured a tactical demonstration by the US Air Force's premier fighter aircraft, the F-22 Raptor, and, in a demonstration which unites the past with the present, a Heritage Flight of the F-22, P-38, P-47 and P-51. A highlight of the show was seeing four P-47 Thunderbolts flying in formation.
This warbird extravaganza featured WWII Pacific, WWII European and Korean air war demonstrations interspersed with aerobatic displays. Almost all of the aircraft scheduled to fly were parked in front of the fence, and this area was open in the morning to allow close-up viewing. Additional aircraft, including a PB4Y Privateer and A-4 Skyhawk, were on static display only. There was also a re-enactors camp set up, with a Sherman tank, a Hetzer tank destroyer and several other ground vehicles on display. Some of the re-enactors and jeeps would later take part in the Korean War close air support demonstration. The flying began promptly at 1100 with a four-ship formation composed of a P-38 Lightning and three P-47 Thunderbolts. This was followed by three C-47 Skytrains making several passes.
Rob Harrison, the "Tumbling Bear", put on a beautiful aerobatic performance in his new Zlin 142c aircraft. Sean D. Tucker, flying the bright red Oracle Challenger III biplane amazed the crowds as only he can, opening his performance with a series of snap rolls on the down line and never letting up until after he had completed his signature triple ribbon cut. It was great seeing John Collver overcome the engine problems he had experienced earlier in the season and return his AT-6 "War Dog" to the skies. Ron Hackworth put on a similarly graceful aerial demonstration piloting the N9MB Flying Wing. Clay Lacy showed what a Learjet can do in the hands of an experienced pilot, and few people have more experience than he. But for many, the aerobatic highlight of the show was seeing The Horsemen perform their flawless formation routine. And not only once, but twice: first in the P-51 Mustang and again in the F-86 Sabrejet, keeping the three aircraft in perfect synchrony through a beautiful series of loops and rolls.
The Pacific Theater Demonstration featured two F4U Corsairs, an F6F Hellcat, three B-25 Mitchells, an SBD Dauntless, a TBM Avenger, a Val (replica), Zero, FM-2 Wildcat, P-40 Warhawk and P-51 Mustang.
The European Theater Demonstration featured two B-17s, seven P-51s, a P-40, Spitfire, Pilatus P-2 and a lone FW-190. Clearly, air superiority belonged to the Allies.
The Korean Air Battle Demonstration began with a ground convoy driving out onto the runway. It was attacked by a Yak-3, which resulted in a Forward Air Controller AT-6 calling in air support. The air battle escalated with the arrival of an F4U, a P-51, an AD-5 and an F7F. The appearance of a MiG-15 soon caused both an F-86 and a T-33 to be scrambled and the vintage jets quickly engaged in a spirited dogfight.
The F-22 Raptor put on an impressive display of modern jet fighter capabilities, demonstrating how far technology has progressed in just over fifty years. It was later joined by a P-38, P-47 and P-51 for the Heritage Flight.
Temperatures approached 100 degrees on Saturday but luckily a nice breeze kept things comfortable. Anyway, in California cool is not a temperature, it's a state of mind, and with that attitude the crowds enjoyed the incredible performances of almost fifty aircraft flying virtually non-stop in the beautiful blue SoCal skies. Chino is very photographer-friendly: one can approach the aircraft quite closely, they taxi by right in front of the crowdline and they make numerous passes, banking hard on approach. A 300mm lens is sufficient to capture most of the warbirds. There is a photographer's sunrise tour which starts at 0500 for an additional fee, and the Friday arrivals and rehearsal day is also open for a fee. Shooting into the sun and keeping up with the many high-speed passes are the only difficulties facing photographers, and both of these obstacles can be overcome with practice. ASR Media would like to thank Jerry Wilkins and Harry Geier for arranging the media access and to the many pilots, sponsors, staff and volunteers who made this airshow such a success.
ASR Media LLC would like to thank Jerry Wilkins and Harry Geier for arranging the media access and to the many pilots, sponsors, staff and volunteers who made this airshow such a success.
Performances included:
F-22 Raptor Tactical Demonstration
Heritage Flight: P-38, P-47, P-51, F-22
Bremont Horsemen, Three P-51 Aerobatic Team
Bremont Horsemen, Three F-86 Aerobatic Team
Sean D. Tucker, Oracle Challenger III Aerobatics
Rob Harrison "The Tumbling Bear", Zlin 142c Aerobatics
Clay Lacy, Learjet Aerobatics
John Collver, AT-6 Texan "War Dog" Aerobatics
Notable flying warbirds:
A6M Zeke/Zero
AD-6 Skyraider
B-17 Flying Fortress (2)
B-25J Mitchell (3)
C-47 Skytrain (3)
D3A1 Val (replica)
F-86F Sabre (3)
F4F Wildcat
F4U Corsair (2)
F7F Tigercat
FW-190 W ürger
MiG-15 Fagot
N9M Flying Wing
P-38 Lightning
P-40 Warhawk (2)
P-47G Thunderbolt (4)
P-51 Mustang (11)
SBD-5 Dauntless
Spitfire MkXIV
T-33 Shooting Star
TBM-3 Avenger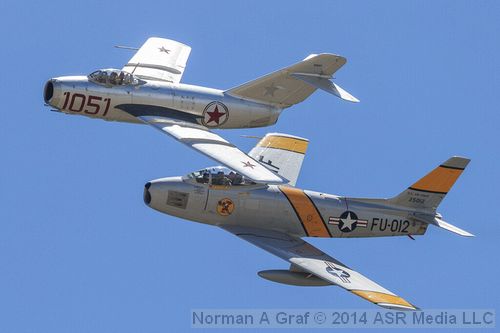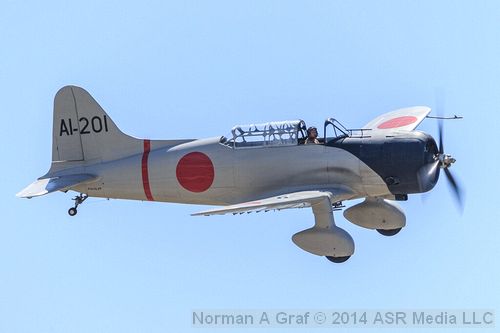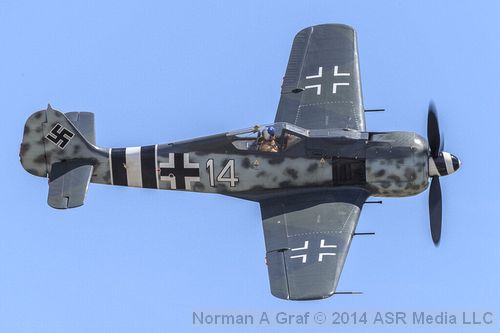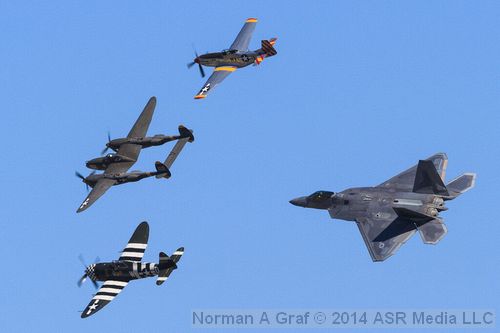 and like us! Click on above!