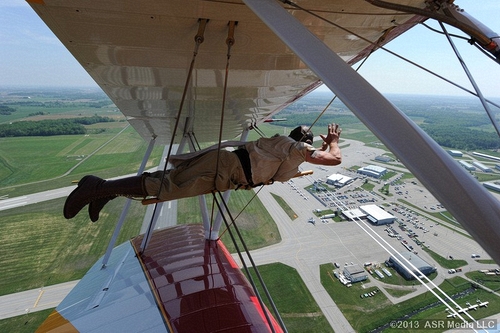 This review based upon the media day May 31st, Friday and for June 1st Saturday. Tens of thousand anticipated eagerly the 5th Annual Waterloo air Show, and everyone hoped for good weather! On media day, the weather was perfect! On Saturday, it was cloudy most of the time, with a few light drops and a good drizzle too towards the middle of the show. Thus the weather was not very kind to the show once again, just like now for the past several years, but at least it wasn't cold!
Fridays media day was perfect, sunny with blue sky with nice and happy looking cloud formations almost all day, it only sprinkled a bit towards the end of the afternoon. There were several media flights and practice for the upcoming weekend show. ASR Media would like to thank Brian Rosenstein of Jane Wicker Airshows, for the media ride! Unfortunately Jane Wicker could not attend at the last minute, and Chuck Tippet took her place for the wing walking act. The CF-18 their first Canadian air show taxied out all the way to runway for the much anticipated flight by the media, but had to return due to radar avionics issues. The Canadian Harvard Association with (4) Harvards had to return to the apron from the tarmac as their time slot elapsed, so that was a bit disappointing too. The Snowbird however did fly.
The Waterloo air show is a family oriented, two day event that entertains, educates and inspires anyone who enjoys the thrill of flight. Besides the air display from 1pm to 5 pm, there were activities for kids in the amusement area, static display of aircraft, lots of food vendors. The air-box corridor for the air show provided excellent viewing and photographic opportunities with a lens 300mm and up. For 2013 it was their largest air show with much improved static line up that included a B-17G, a B-25, a C-47, TBM Avenger, C-123K, C-46 commando, a Mig-15 trainer, from the RCAF Dash-8, (2) C-130 Hercules, Ct-155 Hawk, and several other warbirds in civilian hands.
The flying acts include the Snowbirds, the CF-18 (a CF-18B flew in replacement parts from Bagotville Friday evening) Canadian Forces Griffon Helicopter, Viper North's L-29 Delfin flown by Richard Cooper, Rick Volker, Gord Price, Wayne Hadath, Ken Pietsch, Jane Wicker Wingwalker, Canadian Harvard Aircraft Association's Formation Team, there was a jet car that raced Rick Volker's SU-26M and pyro too, which was improved too.
Over all the show was improved from last year, but it certainly would have been much better if the weather would have cooperated. For photographers the cloudy sky offered challenges but also offered some dramatic background and great contrast for interesting photos. Hopefully the show will have better luck next year with the weather!
Some of the Participants were:
Snowbirds
CF-18 Demo Team
Canadian Forces Bell CH-146 Griffon Helicopter
L-29 Delfin
Canadian Harvard Association with (4) Harvards
T-33 "Mako Shark"
Ric Volker's SU-26M
Jane Wicker Wingwalker
Jet Car
Dusty from Disney's Planes
Rating: 8 out of 10 (due to the weather)