For a week in September, Stead Field, outside of Reno, Nevada, comes alive with the sights, smells and sounds of the National Championship Air Races. This year marked the 50 th time the races have been held in Reno. In addition to the Air Races, this event hosts an Airshow and the National Aviation Heritage Invitational aircraft display. With so much going on, and a limited amount of time to experience it, decisions had to be made. It was impossible to cover all the action so it was decided to concentrate on the racing. After all, this is the only place in the world you'll see air racing at this level.
Arrivals, practice and race qualifications started on Sunday, September 8 and continued through Tuesday. The performances in the qualification rounds determined the distribution of the aircraft into A, B, and C-heat races for each class, with the winner of each heat advancing to the next fastest group. The actual races took place Thursday through Sunday in what by then had become Gold, Silver, and Bronze races. With over a hundred aircraft racing in six classes, and practice, qualification and racing spread over a full week it required a lot of preparation to keep from being overwhelmed. But not to worry, the website (
http://www.airrace.org
) is well organized, informative and kept up-to-date. And besides, there's an app for that!
There are six classes of aircraft, with enough differences for pretty much every taste. The Biplane Class is dominated by small, aerobatic aircraft like the Pitts Special and race on a 3.18-mile course at speeds exceeding 200 mph. The Formula One class is defined by the engine; all aircraft are powered by a Continental O-200 engine (the same 100 hp engine used in a Cessna 150). This class sees a variety of aircraft types racing on the 3.12-mile course at speeds which can exceed 250 mph. The Sport Class features high-performance kit-built aircraft showing off the latest developments in engine and airframe technology. Racing at speeds approaching 350 mph, this class sees a lot of action over the 6.37-mile course. The only stock class at Reno is the T-6, allowing only AT-6 Texans, Canadian-built Harvards, and US Navy and Marine SNJs. These races tend to feature a lot of close racing and winners of these races are determined more by pilot skill and strategy. The Jet Class started a decade ago as an L-39 invitational, but has since been opened to all comers. This year saw several L-29 Delfins and a TS-11 Iskra join the field as they raced at speeds around 500 mph on the 8.47 mile course.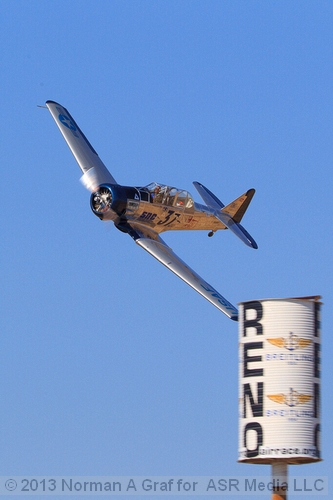 The Unlimited Class attracts by far the most attention, featuring, if not the fastest, the "baddest" aircraft at the races. All of this year's contestants flew WWII fighter aircraft, some stock, some highly modified, some bearing historically accurate markings, others wearing wild and amazing paint schemes. Seven Mustangs, five Sea Furies and one each of F7F, F8F, F4U and Yak-11 made up the sixteen aircraft in the 2013 Unlimited Class.Interest in this class is always high, but the excitement began building well before Race Day. Steven Hinton, four-time champion in "Strega" had been wooed out of early retirement by Team "Voodoo." Misfortune soon beset Team "Strega" as the aircraft lost its canopy on a practice flight on Tuesday. A new one appeared in time for it to race on Friday, but it was disqualified for a showline cut. This meant that Matt Jackson would have to start at the end of the pack for the Silver Heat on Saturday morning. But by putting in a tremendous race and lapping the field he advanced to the Breitling Gold Race on Sunday. The final race on Saturday was the Gold Heat and ASR was fortunate to be able to witness this race from outer Pylon 4. Viewers from the flightline and grandstands normally see the undersides of the aircraft from a safe distance as they round the pylons during the race, but being in the infield provides a spectacular close-up view into the cockpits of the aircraft as the pilots come as fast and close to the pylons as possible. The angular rate of change as the airplanes whip by at over 500 mph can make photography challenging, but it is THE place to be at the races! Steve-o, as expected, won the Heat. This set the stage for a head-to-head race between Steven Hinton in "Voodoo" and Matt Jackson in "Strega": would it be man or machine which determined the outcome?
The Breitling Gold Race began on Sunday with the nine aircraft (see listing below) taking off and formatting off the wing of the T-33 "Pacemaker" flown by Reno legend Steve Hinton (father of Steven). Once all the racers were in place and lined up, the pace jet pulled up and away calling out "Gentlemen, You Have a Race!" Steven Hinton in "Voodoo" took the lead and never looked back. Matt Jackson flew a very aggressive race in "Strega" and managed to take second place. Sherman Smoot in "Czech Mate" rounded out the top three.
The National Championship Air Races is the last pylon racing event of its kind, carrying on the traditions of the Cleveland Air Races of the 20s, 30s and 40s and it is to be hoped that 2013 marks the first of the next fifty years. ASR Media would like to thank all of the wonderful staff and volunteers who make this event such a success, especially Valerie Miller, Director of Marketing and Public Relations, and all of the media support staff.
| | | | | |
| --- | --- | --- | --- | --- |
| Place | Race # | Aircraft | Pilot | Speed (mph) |
| 1 | 5 | P-51D Mustang "Voodoo" | Steven Hinton | 482.074 |
| 2 | 7 | P-51D Mustang "Strega" | Matt Jackson | 474.926 |
| 3 | 86 | Yak 11 "Czech Mate" | Sherman Smoot | 455.770 |
| 4 | 77 | F8F-2 Bearcat "Rare Bear" | Stewart Dawson | 451.342 |
| 5 | 38 | P-51XR Mustang "Precious Metal" | Thom Richard | 434.682 |
| 6 | 8 | Sea Fury TMK 20 "Dreadnought" | Brian Sanders | 423.700 |
| 7 | 71 | Sea Fury TMK 20 "Sawbones" | Curt Brown | 407.140 |
| 8 | 114 | Sea Fury MK II "Argonaut" | Korey Wells | 376.190 |
| 9 | 11 | P-51D Mustang "Miss America" | Brent Hisey | 372.949 |
Airshow Performers included:
Yves "Jetman" Rossy
The Patriots L-39 Formation Team
Kent Pietsch, Interstate Cadet Aerobatics
David Martin, Extra 300S Aerobatics
Jim Peitz, Beechcraft Bonanza Aerobatics
Michael Goulian, Extra 300S Aerobatics
Clay Lacy, Learjet Aerobatics
Bill Braack, Smoke-N-Thunder Jet Car
CAF SoCal Wing Warbirds:
Grumman F6F Hellcat
Grumman F7F Tigercat
Grumman F8F Bearcat
Mitsubishi A6M3 Zero
North American P-51D Mustang "Man O' War"
Supermarine Spitfire MkXIV
Rating: NA, we only covered the air race.