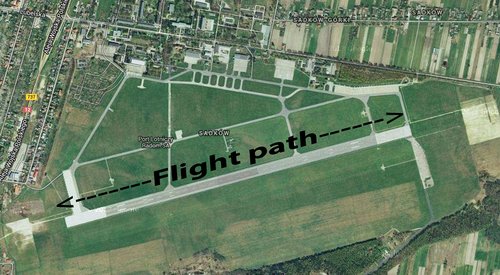 Every two years, the Polish Air Force, the city of Radom, the Polish Aero Club AP and the Radom Military Socio-Cultural Association SWAT host the Radom International Air Show. This year's show was the 13th in the series of international air shows held in Poland and the ninth time this air show has taken place in Radom. Officials estimated that almost two hundred thousand people attended the two-day event; 80,000 on Saturday and 100,000 on Sunday. The Air Show, as has come to be expected, featured a rather large number of performers, both foreign and domestic such as the Orlik Team and Bialo-Czerwone from Poland, Krila Oluje from Crotia, Latvian Baltic Bees, Finish Air Forces's Midnight Hawk Team and Patrouille de Suisse. Aircraft from 20 countries were in attendance, either performing flying demonstrations or on static display, the total number of aircraft exceeded 210 aircraft and helicopters.
Radom Sadków Air Base is located roughly 100km south of Warsaw, a little over an hour's drive. Individuals can make the journey on their own, but I joined a package tour from Japan. Luckily the weather was comfortably nice with temperatures around 26C (~80F).
Unfortunately the air show site is set up such that the crowds face the sun until mid-afternoon, resulting in strongly backlit conditions for photography. But, as the gates opened at 8 AM and the show ended at 7 PM, with flying scheduled from 9 AM to 7 PM, there was still ample opportunity to get decent photos of at least some of the performers. In 2011 observation stands were set up on the north side of the runway, providing opportunities to photograph the action under better lighting conditions. However this year such seats were unfortunately not available! Instead, photo stands consisting of low, four-step bleachers were provided. An extra fee was required to access these stands, of which roughly 100 were available. Only 40-50 seats were occupied, perhaps reflecting the rather high price of 60 Euros for the two days!
Over all it was a good show highlighting many aircraft and Teams which are rarely seen in Western Europe or not all in North America.
Some of the aircraft participating in the display:
Mi-24
Mi-8
Su-22M4K Fitter
MiG 21 Ibis LancerR
MiG-29
Orlik Team PZL-130
Bialo-Czerwone Iskry TS II
Krila Oluje Crotian AF PC-9
Latvian Baltic Bees L-39C
Finish Air Forces's Midnight Hawk Team
Patrouille de Suisse Northrop F-5E Tiger II
Solo Turk F-16
Greek AF F-16 Demo Team
French AF Rafale Demo Team
Italian Air Force's Eurofighter
Hungarian Air Force's Jas-39 Gripen
Red Bull Corsair F4U-4 and Bell Cobra
Ukranian Su-27 Flanker
and many more...
Rating:

8.5 out of 10