The 21st airX Malta International Airshow organized by the Malta Aviation Society was held on the 28/29th September 2013. As expected the weather was quite favorable with clear skies on Saturday and overcast with light wind on Sunday - but surely very hot! The organization was flawless and the hospitality shown by the organizers and all the volunteers was second to none.
As is customary, on the afternoon of Friday 27th, the MAS volunteers were taken to the Runway 31 threshold for the arrival of the aircraft. From this location one could also photograph the commercial airliners landing and departing runway 31. A special arrival was the Yemen Air Force C235 on its delivery flight from Seville in Spain.
The organizers are to be commended for their efforts to put up yet another interesting airshow despite the reduction in military participation at airshows by various Governments worldwide. Though the static display was significantly smaller when compared to previous air shows, this did not dampen the enthusiasm by the public which came in large numbers to the airshow at Park 4.
The gates were open from 10.00 am to 5.30pm on both days. Attendance was higher than last year's so much so that additional parking place was allocated for Sunday. Free Parking on Apron 3 was handled very efficiently by the younger volunteers from the Malta Aviation Society.
On Saturday, the VIP seating area complete with its own refreshment area was restricted to the official sponsors air X whilst on Sunday this area was available to the public for an additional €5 charge. Sadly, there was no official Press area this year but this did not preclude the accredited media from capturing all the action. The airshow Facebook page was continuously being updated with news and photographs taken by the society's PR team. Spectators were close to where the taxiing aircraft and flight display took place, thus being in a strategic place to capture all the action. A refreshment and food stall with reasonable prices was provided for crews, volunteers and spectators to take a break. Other smaller stalls were set up around Park 4. Restroom facilities were predominant and cleaning staff did a great job throughout both days. Medical and Rescue crews were present but luckily all went well despite the heat and their intervention was not required.
The volunteers at the Official Airshow Merchandise shops were kept busy with the public asking and buying specific memorabilia on both days. Once again, the glossy 76 page Malta International Air show 2013 Souvenir Program was available for sale for €3 or packed together with an official MAS 2014 desk calendar and a pack of 3 postcards for €5. A limited number of Red Arrows polo shirts signed for the occasion by all the Red Arrows pilots were also for sale at €50 each. Stands set up by local flying schools were kept busy with the public, mainly young students enquiring about the various pilot, cabin crew and other courses offered. The Armed Forces of Malta Air Wing and the Italian Military mission were also present with their own stand selling Army memorabilia - a haven for collectors.
On Saturday morning the public was given an extra and unexpected treat when a US Navy P-C3 Orion arrived from its Sigonella base for a few touch and goes and ILS training. The organizers were swift to ask permission for this training exercise to be held on RWY 23 instead of RWY 31 and thus the public present at Park 4 in the late morning could enjoy and snap photos of the P3 exercises.
An interesting new aircraft was the Malta School of Flying Tecnam P92-JS with registration 9H-MSF. This aircraft arrived in Malta on Thursday 25 th September and was re-registered to 9H on Friday 26 th, making it the latest addition to the Maltese aircraft register.
The Sky People Piper PA28-161 Warrior II with registration 9H-FLY also drew the crowds with its outstanding orange and white livery. The Piper is a much sought after aircraft for pleasure flying in Malta and enquiries at the air show were substantial.
Malta Wings provided a 10 to 15 minute local sightseeing tour with its Cessna 206 six-seat aircraft 9H-ADW at a cost only Euro 29 including VAT which proved successful. The passengers boarded the aircraft from the airshow apron and the flights took off RWY 23. This could hopefully be a start for more such tours in future airshows.
The return of the Qatar Emiri Air Force Hercules and the NATO Awac were well received by the public who queued for hours to board these two aircraft and get a better insight of the interior and operations by the helpful crews. The less known Polish An-28, the Bryza which is the Maritime Patrol reconnaissance variant was also open to the public for a few hours, but unfortunately the German Navy P-3C Orion did not allow the public onboard.
The highlights of the air display were the Armed Forces of Malta Scottish Bulldog with registration AS0021 ably piloted by Flight Instructor Pilot Loreto Spiteri who gave two spectacular displays on Saturday and Sunday with such an aircraft. This was followed by the display from the Italian Pioneer Team with their Alpi Eagle 300 aircraft which included aerobatics, music & pyrotechnics.
On Sunday, the Airmalta Airbus A320-214 with registration 9H-AEO, in special colours took to the air for an awesome display, captained by Mark Micallef Enyaud – a flight to remember as this happened to be his last commercial flight on retirement. The captain put the aircraft to test and showed off his and the aircrafts aerobatic capabilities to the applause of the crowd.
Both days concluded with the air display by the much awaited Red Arrows team. After last year's disappointment at the cancellation of their participation at the last moment due to the team's grounding in Sardegna whilst on their way to Malta, they surely made up for it this year - on the ground by making themselves available for signing of the Red Arrows booklet and other memorabilia as well as for photo opportunities with the public which were well received. The air displays were the full Red Arrows displays including the new Lancaster formation and concluded on both days with the special smoke - namely the red and white colours of the Maltese flag – a clear symbol of the bond which still exists between the British and Maltese populations.
The Red Arrows display coincided also with a special moment, when hardworking MAS committee member Paul Spiteri Lucas proposed marriage to his girlfriend Emanda Farrugia just before the Reds made the heart formation and this was dedicated to them by Red 10 Mike Ling who was doing the commentary. Good luck Paul and Emanda.
After the air show, an elated Joe Ciliberti, Chairman of the Malta Aviation Society told me that the committee and the volunteers were happy with the outcome of this year's airshow despite the reduction of participating aircraft but the quality of aircraft and displays made up for this. Mr Ciliberti thanked all involved in the success of this air show and said that work will commence in the coming weeks for the 2014 Air Show which he hopes will see more aircraft participation and who knows – maybe a special display team……. We wait and see.
All in all, It was another exceptional weekend at the air X Malta International Air Show 2013 and am looking forward to the 2014 edition which will be held on the 27 th and 28th September.
Performers included:
Airmalta A320-214 reg no 9H-AEO (Sunday only)
Armed Forces of Malta Bulldog reg no AS0021
Armed Forces of Malta Alouette 316B helicopter reg no AS9211
Italian Military Mission helicopter Augusta Bell 212 helicopter reg no MM81216
Red Arrows Team Bae Hawk T1
Eurojet Learjet 60 reg no 9H-AFJ (Saturday only)
Diamond Aviation Extra 200 reg no D-ELOP (Saturday only)
RAF Tucano reg no ZF239
Pioneer Aerobatic Team Alpi Eagle 300 reg nos I-A688 (1), I-A596 (2), I-B524 (3), I-A690 (4)
Private Mudry CAP21 Silver Chicken reg no I-SIVM
Private PS 28 Cruiser reg no OK-LAU Mitchell "Georgie's Gal"
Static displays included:
Armed Forces of Malta Alouette 316B helicopter reg no AS9315
Armed Forces of Malta King Air 200 reg no AS1227
Armed Forces of Malta BN2-Islander - reg no AS9516
Italian Military Mission helicopter Augusta Bell 212 reg no MM81163
Qatar Emiri Air Force Hercules C130J reg no A7 MAH
German Marine P-C3 reg no 60+01 with special markings 100 years
Air X Embraer Legacy 600 reg no 9H-JPC (Saturday only)
NATO Boeing E3A Awacs reg no LX-N90452
Polish Navy AN-28 Bryzia 1 reg 1118
RAF Tucano reg no ZF339
RAF Eurofighter Typhoons with reg nos ZK300 and ZK308
RAF Tornados with reg nos ZA410 and ZD895
RAF Hawk reg no XX199
RAF Hawk reg no XX230
RAF King Air 200 reg no ZK455
Aeris Aviation Total Eclipse EA 500 reg no N843TE
Sky People Tecnam P2002JF reg no 9H-SKY
Sky People Piper PA28-161 Warrior II reg no 9H-FLY
Malta School of Flying Tecnam P92-JS reg no 9H-MSF (Newly arrived and latest Maltese 9H registered)
Private Beechcraft V35B Bonzana reg N456T
various other aircraft from the Island Microlight Club, Diamond Aviation, Hub Air, Malta Wings and the Malta School of flying.
Rating:8 out of 10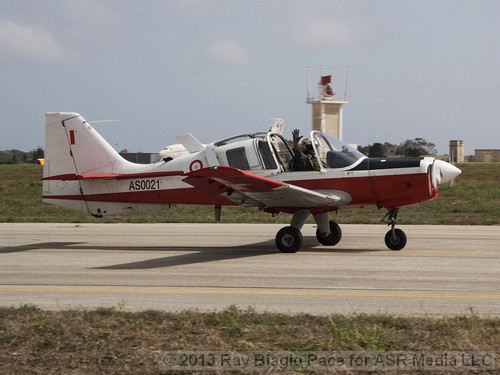 L to R :- Essam Mohd Al-Shuaibi, Nasser Al N, Captain Mohammed Ahmed Naji, Ahmad Al -Kuwari, Ali Al Assiri, Mishal Ibrahim H. Al-Nasr, Abdullaziz Mohammed Al-Tamm, Ibrahim Abdulla Al-Malki, Jassim Al-Bader