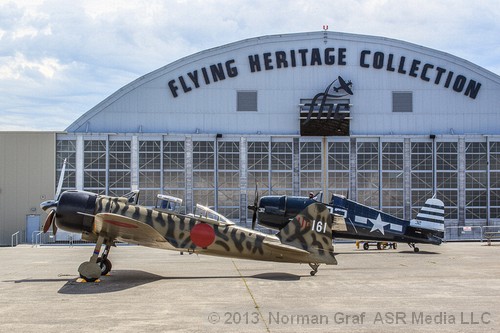 The Flying Heritage Collection museum, located at Paine Field in unincorporated Snohomish County between Everett and Mukilteo, Washington, houses an impressive collection of World War II fighter aircraft. Paul Allen, co-founder of Microsoft, began acquiring and preserving these planes in 1998. His passion for historical aviation motivated him to find and restore the iconic fighter aircraft of the U.S., British, German, Russian and Japanese air forces.

One of the unique features of this collection is the goal of returning these planes to the sky. Almost all of the aircraft, some of which are the last of their kind, are in flying condition. Each summer various planes from the Flying Heritage Collection are flown to keep them operational and exercised on a regular basis.
During Free Fly Days at the museum the public is invited to watch as selected aircraft take to the skies. Before the flying commences military aviation historian Cory Graff provides historical information on the aircraft and introduces the pilots. The aircraft then take off in front of the crowds and perform a series of passes.
Entrance to the field and watching the flying is complimentary, but a visit to the museum (Adults - $12, Seniors/Military - $10, Youths (6-15) - $8) is a great way to finish the day. Not only do you get to see the rest of the collection, you also get to meet and interact with the pilots.
ASR was privileged to attend the Free Fly Day on June 29, which featured the inaugural public flight of the Grumman F6F-5 Hellcat. It was paired up with its primary adversary, the Mitsubishi A6M3-22 Reisen (Zero). The aircraft were shown off to good effect by Carter Teeters and Kevin Eldridge, respectively.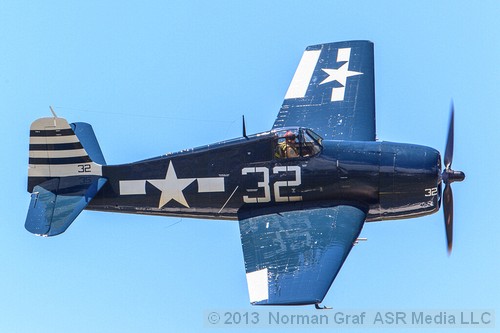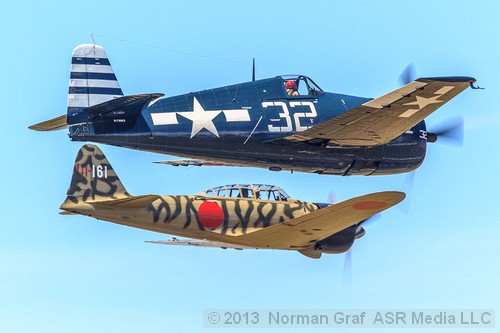 Review and photography by Norman A. Graf for ASR MEDIA LLC.