South America's premier multinational air combat training exercise, CRUZEX, was held in early November of 2013 at the Augusto Severo International Airport located in the north eastern corner of Brazil. Less than 400 miles south of the equator, the airport serves as the civilian international airport for the city of Natal but is also the home of the Brazilian Air Force's Natal Air Force Base (Base Aérea de Natal or BANT).

From November 4th to the 15th BANT hosted CRUZEX Flight 2013. Roughly 100 aircraft and over 2000 crew from the host Brazilian Air Force (Forca Aerea Brasileira or FAB) and 7 visiting nations participated in the exercise. The majority of the combat aircraft and crew operated from BANT with additional refuelling, liaison and other aircraft operating from the FAB base at Recife roughly 100 miles south of BANT.
This seventh edition of CRUZEX saw Canada, Chile, Colombia, Ecuador, the United States of America, Uruguay, and Venezuela come together with the FAB to train and exchange their knowledge with each other. While each country had its own specific training objectives, the opportunity to build relationships with the members of other countries forces proves to be a significant benefit of participation in an exercise like CRUZEX. When participant country's forces are called upon in the future to work directly with each other in a time of crisis, the experience of having already worked together can go a long way to help ensure operational success.
As winding down from CRUZEX Flight 2013 began you can bet planning for the next CRUZEX was ramping up. 2015 should prove to be a very interesting again if CRUZEX organizers are able to continue to attract such a large and varied group of participants and ASR Media looks forward to being there again to cover the next CRUZEX.
ASR Media and Locked On Photography would like to express our thanks to the FAB and Lt. Humberto of the BANT Center for Media and Visitors for providing accreditation to cover CRUZEX and arranging the media flight and access to the ramp and field to shoot the exercise. We'd also like to thank the RCAF, LtCol Goulden, RCAF Detachment Commander for CRUZEX and Capt. Daniel, 8 Wing Public Affairs Officer, for providing the opportunity to shoot on both the media flight and an RCAF para drop flight during the exercise and for their assistance in preparing the full article on CRUZEX for The Magazine by ASR.
CRUZEX Flight 2013 Participant Aircraft Based at BANT:
Brazil with:
A-1M AMX
A-29 Super Tucano
AH-2 Sabre (

Mi-35M 'Hind'

)

C-105 Amazonas
C-130 Hercules
F-5M Freedom Fighter
F-2000 Mirage H
34 Super Puma
H-60L Black Hawk
Canada with: CC-130J Super Hercules
Chile with: F-16 Fighting Falcon
Colombia with: A-37 Dragonfly
Ecuador with: A-29 Super Tucano
Uruguay with: A-37 Dragonfly and IA-58 Pucara
USA with: F-16 Fighting Falcon
Venezuela with: F-16 Fighting Falcon
Rating: N/A not an air show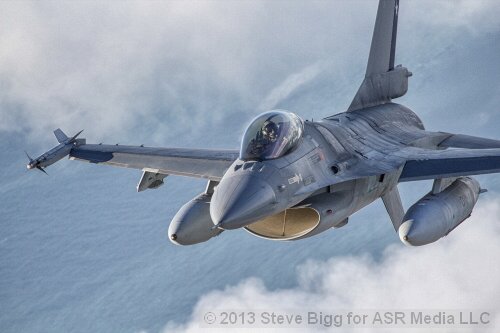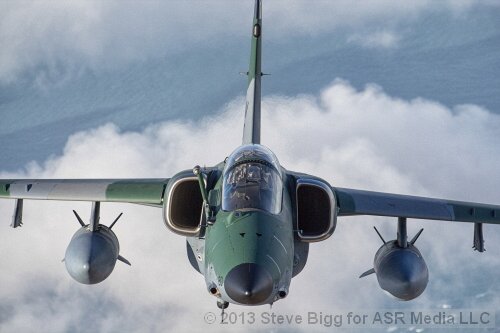 Review and photography by Steve 'Hornet' Bigg for ASR MEDIA LLC.