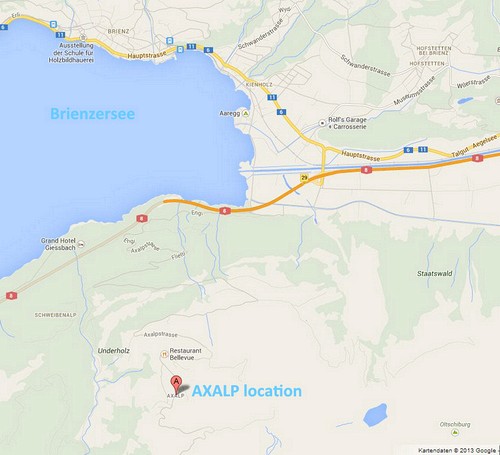 Every year in the autumn, thousands of aviation enthusiasts climb up to the high peaks of the Swiss Alps (2700 meters above sea level) to watch Axalp air power demonstration, at the Axalp-Ebenfluh air force firing range above Brienz, Switzerland. The Axalp is one of the most famous aviation events in the world.
The Swiss Air Force holds this live fire event. This is a unique opportunity to see military aircraft in their environment. From the top of the mountain one can see jets, helicopters and prop trainers from the Air Force flying through the valleys below.
This year it took place on Wednesday and Thursday, October 9 th and 10 th. Monday and Tuesday were practice days, with a chance to see some good action. Climbing very early in the day guarantee a good spot at the top of the mountain. The climb takes more than 2 hours. The unpredictable weather can cause cancellation of the event with almost no notice, which was the case this year on Thursday, the second day of event. Thus only the practice day offered a good day for photography.
Weather permitting this is a must see event. A lot of planning is required in order to attend this demonstration. Driving through the town on event days is not permitted. One needs to be in good physical shape to endure the climb carrying equipment and supplies. There is no attendance fee.
There are three points to take photos:
#1:2000m high. It is a good location to catch military jets firing their guns.
#2:2150m high. A good place to take photos of aircraft flying in the valley.
#32680m high. The top of mountain, location of the control tower It is the best place, but space is limited, must climb earlier in the morning to secure a place.
Some of the aircraft participating in this exercise were:
Northrop F-5E Tiger II, Swiss Air Force
McDonnell Douglas F/A-18C Hornet, Swiss Air Force
Pilatus PC-21 A-108, Swiss Air Force
Aerospatiale AS532 Cougar T-333, Swiss Air Force
Eurocopter EC635 T-362, Swiss Air Force
SAAB JAS 39C Gripen 39262 , Swedish Air Force
Patrouille de Suisse Northrop F-5E Tiger II
Rating: NOT rated as show was cancelled due to weather!