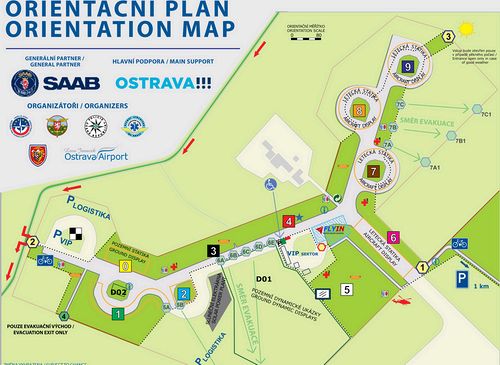 The NATO-Days 2012, is the largest army-air-military show in Central Europe, held in Ostrava at the Leoš Janáček Ostrava Airport, in the Czech Republic.
On Tuesday, Sept. 18th, the first aircraft arrived in Ostrava. Not one, but two B-52H Stratofortresses from the USAF Reserve Command, 307th Bomb Wing from Barksdale came to the show. One for the static and the other to participate in the flying display. The first Buff was participating in the exercise RAMSTEIN ROVER 2012 and came from Leuchers, Scotland, the other one directly from Barksdale.
On Thursday, Sept. 20th, we saw several very interesting aircraft. The Polish Air Force brought (3) SU-22M4 Fitter K, (1) Casa C-295M, the French Air Force brought (3) Mirage 2000 N, the Turkish Air Force arrived with (1) C-160 Transall and (2) F-16's. At sunset a rarely seen Antonov An-2 from the Estonian Air Force arrived. Only a few aircraft of this model are in regular military service in Europe: (5) with the Estonian Air Force, (1) with the Serbian Air Force and an unknown quantity with the Russian Air Force.
Friday, Sept. 21st, was the busiest day for arrivals. Some of the arrivals were: from NATO the E-3A AWACS, from France a rarely seen KC-135F Stratotanker, from Slovakia (3) MiG-29AS, from Sweden the Saab S-100D Argus, from Romania a new C-27J Spartan, from Slovenia a Pilatus PC-9M Hodournik, from Austria (1) Sikorsky S-70A-42 Blackhawk and (1) Sud Aviation (Aerospatiale) Alouette III, from Italy (1) Eurofighter (1) C-27J Spartan, and (1) Piaggio P-180 Avanti. The British Air Force brought the Tucano, the Hawk the King Air and the Red Arrows display teams, and one Boeing E-3D Sentry. The Czech Air Force brought many different kinds of aircraft and helicopters to the static display, like the Yak-40, Gripen, Mil Mi-171SM, Zlin 242L, Zlin 143SLi, Casa C-295M, Mil Mi-24, W-3A Sokol and on and on.
The weekend show was very good for the spectators. The program was non-stop; with a very good mix of ground and air displays. Ground displays offered a large variety and interesting events for the spectators during NATO Days in Ostrava, among them:
The 102nd Reconnaissance Battalion, which is a part of the 53rd Brigade. They showed a dynamic display of a raid simulating the capture of an enemy combatant. The soldiers dropped off from Mil Mi-171, which was very impressive. The 102nd Reconnaissance Battalion also presented a Land Rover Defender 130 KAJMAN vehicle, an IVECO 4x4 light armoured fighting vehicle and a Raven RQ-11B reconnaissance UAV.
The 532nd Battalion introduced the visitors to modern electronic warfare and they presented a RUP FM M mobile reconnaissance-guiding system, KV and VKV band jammers and a STAR-V jammer mounted on an IVECO vehicle, which is used in foreign operations to jam signals for improvised explosive devices.
A joint demonstration by the police intervention units from Ostrava and SPAP intervention unit from Katowice in Poland, which included an airdrop from Mi-8 helicopter of the Polish police.
Several Czech fire brigades from different locations had a large static display which highlighted their high technical standard and operation procedures.
On both days, Saturday and Sunday, around 9:15 am, we could hear jet noise. Directly from Zeltweg, Austria came a Eurofighter which for only the second time in history performed a full flying display outside Austria. A few minutes later the MiG-29 AS from the Slovak Air Force took off for the solo display. It's always nice to see this smoky warrior from the cold war. In the afternoon we saw two MiG-29s perform a dogfight deploying flares, but due to distance between them it was not as breathtaking as it could have been. The Italian Air Force C-27J Spartan took off next. The take off of this aircraft is always impressive. After the Royal Air Force solo display came the opening flyby by the Czech Air Force, with (3) Mil Mi-171, (3) Mil Mi-35V and (1) Alca. As of first of September the Czech Air Force is responsible for air policing over the Baltic States. As a result of this the Czech Air Force did not participate with any solo jet display for this year's addition of the NATO-Days. But we could see a rare picture over the sky in Ostrava. We saw an air to air refueling from a French Boeing KC-135CF and on the boom a Czech Gripen. This was a unique formation.
This year's demonstration by the Austrian Air Force Sikorsky Black Hawk S-70 A from the Air Support Wing based in Langenlebarn, was much better than last year's. The Swiss Air Force's SuperAérospatiale AS332M1 Super Puma solo display was impressive as ever flown by Oberstleutnant (lieutenant colonel) Mariano Spada.
This year from the Turkish Air Force came the F-16 SoloTürk a rarely seen act in Central Europe. This display is one of the best F-16 Solo Display worldwide. The display is very dynamic, very fast, and always with flares. It is a display for the eyes and ears. After the great success from Saturday, SoloTürk wanted to present his wonderfully painted F-16 in a more exciting way to the spectators, but before he could finish his display, he was ordered by the Flight Safety Officer to end it, as he flew too low!!
The Italian Air Force Eurofighter solo display was next. This well known display is always an eye-catcher. There is nothing like the scream of two Ljulka AL-21 axial flow turbojet engines at start up. The sounds emanated from the swing-wing, high speed, low level ground attack and recce aircraft, the Sukhoi SU-22 M-4 Fitter K from the Polish Air Force. It is not often one can see one of this type of aircraft perform, but this time it was two of them, and they did perform! Flying in tandem one had the wings extended the other retracted, doing splits and crossovers. The Polish Su-22 Fitter demo team is a most welcomed addition to the European Air Show scene. For the first time outside of France, the French Air Force tactical demo team RAMEX-DELTA with (2) Mirage 2000 N, showed their high level of flying and aerobatic skills in a very impressive display. In two ship formation they simulated ground attacks and air surveillance.
The USAF B-52 H Stratofortress flight consisted of simulated tactical maneuvers, a slow photo pass and landing with the drag chute deployed. The flying display flown by Capt. Kerry Baker (Executive to the Commander) was about 15 minutes long. Longer than the usual two flyby passes that we were used to other air shows such as at Fairford. To celebrate this event a special badge was prepared by the members of Barksdale AFB.
The oldest warbird flying was the B-25J Mitchell, built in 1944, from the Flying Bulls. The aircraft was flown by Raimund Riedmann (Flight Operations Manager & Chief Pilot Fixed Wing) and Hans Pallaske. The pilots flew this old glory with great skills and gave many great opportunities for all the enthusiast to take good images and leaving all spectators from young to old very impressed. Captain Stefan "Stitch" Hutten, this year's display pilot from the Royal Netherlands Air Force, took off in the wonderfully painted orange and black F-16. It was his first display season. Stitch is assigned to 312 Sqn and has gained approximately 800+ hours on the F-16 since starting his flying career in 2007. The Red Arrows performed, since last year after a serious accident, with seven aircraft. Also from the RAF we could see the fantastically painted Tucano and the specially painted Hawk in the flying display. The RAF brought two specially painted Hawks to Ostrava: one static and one as demo. The Czech Air Force finished off this fabulous air show with a solo display of the Aero L-159 Alca.
Over all the organizers did an excellent show: their web site was informative and frequently updated, the press accreditations were done very professionally and quickly. ASR would like to thank all their staff for their hospitality especially Tereza Šlosarová and Ing. Michal Holubec.
Performers included:
Mirage 2000 N
MiG-29AS
Aero L-39ZAM Albatross
Aero L-159 Alca
Mil Mi-171
Red Bull B-25J Mitchell
KC-135F Stratotanker
Sukhoi Su-22M-4 Fitter K
SoloTürk F-16 Team
Eurofighter EF-2000
Red Arrows
and many more...
Static displays included:
B-52H Stratofortress
F-15C
King Air B200
PC--9M Hudournik
Saab JAS 39D Gripen
C-27J Spartan
L-410
E-3A Sentry
Jak-40
Mi-24
and to many to list...