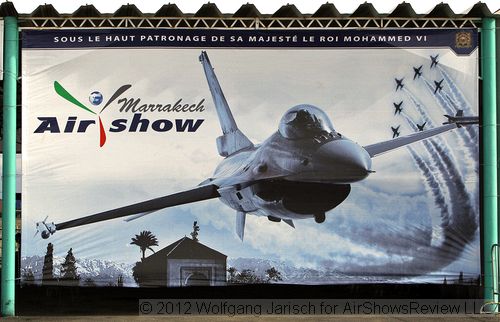 The International Aerospace Exhibition for Africa, as Marrakech Air show advertised itself is Africa's foremost trade show for civil and military aviation and it is a relatively new event. For 2012, their third event, it was their largest exhibit by far with more than 12 countries attending among them: China, Bahrain, Bulgaria, Belarus, Switzerland and Turkey. The International Aerospace Exhibition in Morocco, held at the FRA (Forces Royales Air) Military Base Marrakech/Ménara (GMMX). This event was held under the High Patronage of His Majesty King Mohammed VI.

The foreign military static selection was relatively small; one Beechcraft 200 King Air for maritime patrol from Malta (which is definitely a rare aircraft, because they are only two of this type in service by the armed Forces of Malta). From the United States one UH-72A Lakota, two F-15's from Lakenheath, UK, and one C-130J from Ramstein, Germany. This was it, but after all we are in Morocco, and we will see a wide range aircraft of the Moroccan Air Force and from the Gendarmerie Royale (police). The Gendarmerie Royale has several different helicopters in service. All of which should be interesting enough. Due to the rainy weather many had covers on them, which didn't helped much when it came to photographing them.
The Moroccan government has spent lot money for the modernization of their aging aircraft fleet, and they bought many new aircraft for the FRA such as the Bombardier Canadair CL-415 water bomber, F-16C/D Block 52+ fighters (unconfirmed disclosures says 24 twin seaters, 12 single seaters) and unknown quantity of Hawker Beechcraft T-6C Texan II.

The Gendarmerie Royale also received many new helicopters. Some of these were on display: Aerospatiale Alouette II, Eurocopter EC-135 T2+, and the Eurocopter AS-355F Ecureuil II.
From the Royal Moroccan Navy a Eurocopter AS-565MB Panther was also on static display.
Aircraft displayed by the FRA (Royal Moroccan Air Force) included the: Lockheed Martin F-16C Block 52+, Lockheed Martin F-16D Block 52+, Northrop F-5E Tiger II, Mudry Cap 232, Lockheed C-130H Hercules, Beech B.200C Super King Air, Alenia C-27J Spartan, Agusta-Bell 205, Agusta-Bell 206B, Aerospatiale SA. 330F Puma, Aerospatiale SA, 342L Gazelle, AMD Mirage F.1EM-VI, Dornier-Breguet Alpha Jet H + and another special Alpha Jet called Al Ghait used for cloud seeding.
To see the diversity of aircraft types displayed by the Moroccan segment alone was worth the visit. The pilots and crew were present by their aircraft and were happy to answer question if asked.
Every day there was a flying display but with only the FRA performing towards the late afternoon. It was difficult to take good images due to the orientation of the runway and from our designated area, as the sun was in front of us. The daily flying displays were relatively short, compared to large international events such as Fairford in the UK, however they were excellent. It started off with the CL-415 water bomber, followed by helicopters and by Hercules KC-130H with different aircraft behind in a four ship formation of Mirage F-1's, a four ship formation with F-16's, and sometimes a C-130H as a water bomber, and paratroopers jumping from a C-27J. The downside was that they all only made one pass. The actual air show on the public day was no different.
We gratuitously want to thank Mr. Frédéric Le Henaff and Mrs. Amal Zeriouh, for their efforts, in helping us obtain media accreditation.
Performers included:
Royal Moroccan Air Force aerobatic display team, "Marche Verte" (Green March) with the Mudry CAP 232
Lockheed C-130H Hercules tanker
Lockheed Martin F-16C Block 52+
Northrop F-5E Tiger II
AMD Mirage F.1EM-VI
Bombardier Canadair CL-415 water bomber
Aerospatiale SA. 330F Puma
Aerospatiale SA, 342L Gazelle
Alenia C-27J Spartan