The one great thing about the Geneseo air show is the way this show is set up on real turf. It has atmosphere and with the right aircraft, that is no jets, the feeling of yesteryear: the Golden Age of Aviation! Just the distinctive sound of propellers, the way it should be for such an event! It is a very laid back atmosphere with lots of room to move around and the planes are so close you can almost touch them it seems. It is easy to drive in and out of, close parking, no buses to board, no walking for a mile, no security lines and a really friendly staff working the show lines.
The 2012 air show at Geneseo just didn't have the usual strong WWII warbird presence or flying as in previous years. This year the show was more of an aerobatic show than a warbird show. The main attraction this year was going to be the AVRO Lancaster and FW-190 but both had issues and never made it to Geneseo. The iconic B-17 "Memphis Belle" that usually flies as the final event never flew during the show for reasons unknown. The B-17 on Saturday took off and never came back. In listening to the people around me I heard a lot of complaints about the acts this year and I must admit they had a point.
The flying for the show featured the Canadian Harvards, a couple of passes from the NYANG C-130 out of Rochester, lots of training aircraft, a WWI replica, and a formation of WWII fighters, Interstate Cadet "Jelly Belly" and acrobatic fliers filing the skies over Geneseo. It was also interesting listening to two of the Tuskegee Airmen talk about their WWII adventures during the weekend event and to see the P-51 Mustang from the CAF Red Tail Squadron "Rise Above" Traveling Exhibit.
The air-box corridor for the air show provided excellent viewing and photographic opportunities even with a 200mm lens. There were lots of vendors selling and some of the best quality food at great prices that you can ever find at an air show.
Overall this was a good show in 2012 when taking everything into consideration but not as great as previous years. Hopefully this was just a one year slump for this show and 2013 will be once again "The Greatest Show On Turf" as advertised.
Some of the Participants were:
Canadian Harvard Aerobatic Team
Pietsch Airshows
Rob Holland
Rick Volker
P-51D Mustangs "Never Miss"
P-51C "Tuskegee Airmen"
P-40 Warhawk "Jacky C"
F-4U Corsair
B-25 Mitchell "Miss HAP"
Yak-9
Zero
Kate-replica
C-119 Flying Boxcar (static)
C-47 W7 used as jumper platform
DC-3 Dakota
Rafferty Airshows
T-6 Aero Flight
WWI Great War Flying Museum
Liberty Jump Team WWII reenactors
"I think I check the corn out"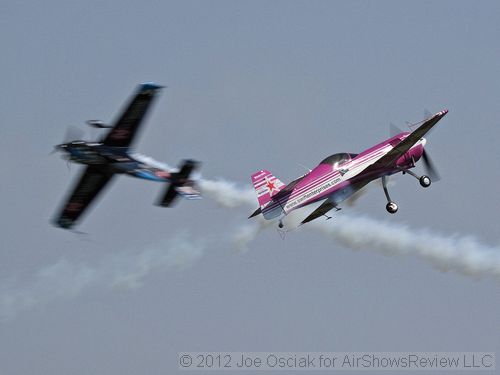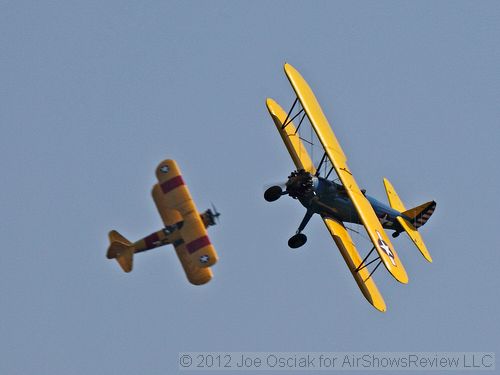 Now you see the B-17 and then you don't!