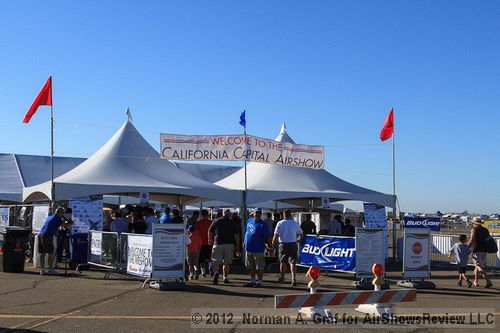 CAVU: Ceiling and Visibility Unlimited! These are words that every air show enthusiast longs to hear on the day of the show. Those, plus moderate winds and temperatures, are the best weather conditions one could hope for. And that perfectly describes the weekend of September 8-9 at Mather Field in Sacramento, where the California Capital Air Show took place. The gates opened at 0900. Parking was handled efficiently, and the massive ex-SAC airfield apron provided plenty of close-in, paved parking space. Security checks were handled expeditiously at the two entrances and visitors were greeted by a large array of vendor and exhibit booths. There were a number of chalets and VIP tents along the flightline, but there was ample room to set up chairs along the fence at show left. There was a large number of aircraft on static display, with tremendous support for this show from the USAF. Beale AFB sent a U-2 Dragon Lady, a T-38 Talon and an MC-12W Liberty. Travis AFB similarly sent one of each type of aircraft based there, namely a C-5B Galaxy, C-17 Globemaster III and a KC-10 Extender. From farther afield, a CV-22B Osprey from Cannon AFB, two A-10C Thunderbolt IIs from Davis-Monthan AFB, a B-52H from Minot AFB and a T-1 Jayhawk from Randolph AFB rounded out the Air Force static displays. The Navy sent a P-3C Orion from NAS Pensacola, the Army a UH-60 Blackhawk, and the Coast Guard an HC-130H Hercules from Coast Guard Station Sacramento. Only the Marines were missing from the US Armed Services. Additionally, quite a few warbirds and civil aviation aircraft were on display, most notably an AH-1G Cobra in high-visibility Arctic markings and a beautifully restored RC-3 Seabee which won a gold medal at Oshkosh last year.
The flying began promptly at 1100, with Kent Lane parachuting in the American flag during the playing of the national anthem, being circled by Tim Weber on his way down. Steve Hinton then performed in the P-38L Lightning "Honey Bunny", showing off the graceful handling characteristics of this classic design. The Red Stars flying team put on a nice four-ship demonstration in their Nanchang CJ-6 trainers, including a stirring missing-man formation to the mournful notes of the bugle call "Taps". Then it was "smoke on!" for the sixteen-ship West Coast RaVens team, flying their RV homebuilt aircraft in perfect formation. The opening delta soon morphed into a diamond and arrowhead. A group of four split off, only to return for a head-on pass with the diamond dozen. Following that display, a UH-1H Huey from Metro Fire made a water drop run. The temperatures had started to climb enough that many in the audience hoped for another drop over the crowd.
Then it was time for Eddie Andreini to take to the skies in his highly modified Stearman biplane. His signature snap-roll on takeoff was followed by a number of aerobatic routines, culminating in his ribbon loop and inverted ribbon cut. Eddie holds the coveted zero altitude air show waiver and his second pass under the ribbon definitely used up all but inches of altitude. Kent Pietsch then put on his comedy routine, his Interstate Cadet shedding ailerons, tires and toilet paper as he engaged in a zany impersonation of someone at the stick who knows nothing of flying. It is an amazing display of piloting skills and showmanship. In addition to this act, Kent also put on an impressive display of power management by performing an engine-off aerobatic routine which ended with him coasting to a stop with the aircraft spinner touching the outstretched hand of a waiting volunteer. His final performance of the day was landing his airplane on the top of the "world's smallest aircraft carrier", a pickup truck.
Steve Hinton then put on another warbird aerobatic show, putting the Grumman F4U-1 Corsair through its paces in a series of graceful rolls, loops and low-altitude, high-speed passes. No sooner had he landed than a four-ship flight of T-38 Talons from Beale AFB passed in review. These trainers are used by U-2 pilots to maintain their flight proficiencies and following close on their heels was a U-2 Dragon Lady which performed several "dirty" passes followed by a steep climb to altitude. Jon "Huggy" Huggins provided narration during this part of the show, informing the audience of the aircraft roles and capabilities. Saturday's show also featured flybys of an HC-130H from Coast Guard Station Sacramento and a KC-10 Extender from Travis AFB.
Then it was back to warbirds. The P-51D Mustang "Kimberly Kaye" and a Spitfire MkIV made several passes, including a number right down on the deck, before gaining altitude to provide top-cover to the B-25J Mitchell "Old Glory." On Saturday the F6F Hellcat "Minsi III" and F8F Bearcat paired up in the sky. Eddie Andreini then returned to the skies for his second performance. He recently acquired and restored a P-51D Mustang now called "Primo Bronco" and put it through a series of aerobatic manoeuvres.
Tim Weber put on another sterling performance in the GEICO Extra 300. His performance is set to music which he both composed and performed. Bill Braack and the Smoke-N-Thunder jet car also sped down the runway.
A thunderous roar and a high-speed pass from above and behind the crowd announced the arrival of the F-16 Fighting Falcon of Viper West. Capt Garrett "Mace" Dover from Hill AFB tore up the skies with a series of high-speed passes that coaxed a bit of vapour from the dry, hot Central Valley air. He was on full afterburner the whole time except for the high-alpha pass. He left to join up with Steve Hinton in the P-38L Lightning "Honey Bunny" and they performed the standard three passes of the USAF Heritage Flight performance. Following their final break they both treated the crowd to a few extra passes.
Sean D. Tucker then started his show with a series of snap-rolls on the down line. What followed has to be seen to be believed. He is clearly one of the best aerobatic performers of all time. His triple outside loop was simply amazing, and his triple ribbon cut is unique in the business.
Then it was time for the headline act: the USAF Flight Demonstration team the Thunderbirds. The clear skies over Sacramento were soon filled with the smoke trails of the red, white and blue F-16s as they put on an outstanding high show. After finishing their show they approached the flightline to sign autographs and answer questions from their delighted fans.
Mather Field's runway layout (4/22) can be challenging for photography early in the day, but by the afternoon when the majority of the flights take place it is not a problem. The action takes place close enough to the flightline that a 300mm lens on a crop-sensor body is sufficient to capture the majority of the action. There was a good selection of food vendors. Budweiser brought its mobile bar and the Shocktop VW Beetle was on hand to dispense draft beer at reasonable prices. The usual assortment of bounce houses and slides was available for the kids. In addition, the Aerospace Museum of California had a very nice tent where kids (and adults) could explore hands-on exhibits. One nice feature of this show is the ability to interact with the performers. Directly behind the announcers' booth at show center was an autograph tent. The announcers made clear when performers would be available, and they stayed until the lines had disappeared.
Air show announcer Rob Reider and Air Boss Ralph Royce teamed up for the two most important jobs at an air show: keeping the show together and the planes apart. They both did a perfect job. Attendance was estimated at 90,000, but superb traffic management meant that the parking lots were quickly emptied, leaving just a few die-hard photographers behind to capture the departing aircraft and the crews who were already starting to dismantle the tents and clean up the grounds.
AirShowsReview would like to thank Karen Strong for arranging the media access and Sid Pinney for operating the scissor lift to provide such a spectacular platform for photography.
Performers included:
Aerobatics

Sean D. Tucker, Oracle Challenger III
Tim Weber, GEICO Extra 300
Kent Pietsch, Jelly Belly Interstate Cadet
Eddie Andreini, Stearman

Warbird Performances

Eddie Andreini, P-51D Mustang "Primo Branco"
Steve Hinton, P-38L "Honey Bunny"
Spitfire MkIV
P-51D Mustang "Kimberly Kaye"
B-25J Mitchell "Old Glory"
F6F Hellcat "Minsi III"
F8F Bearcat
Steve Hinton, F4U Corsair

US Armed Forces Flybys

U-2 Dragon Lady from Beale AFB
T-38 Talon 4-ship from Beale AFB
KC-10 Extender from Travis AFB
HC-130H Hercules from USCG Sacramento
F-16C Fighting Falcon from Viper West Demonstration Team, Hill AFB

Civilian Formation Flights

West Coast RaVens 16-ship RV Aircraft Formation Flight
The Red Stars 4-ship Nanchang CJ-6 Formation Flights

USAF Heritage Flight: P-38L Lightning "Honey Bunny", F-16C Fighting Falcon
USAF Flight Demonstration Team the Thunderbirds
Static displays included:
HC-130H Hercules, USCG Sacramento
CV-22B Osprey, 20th SOS "Green Hornets", Cannon AFB
C-17 Globemaster III, C-5B Galaxy, KC-10 Extender, Travis AFB
U-2 Dragon Lady, T-38 Talon, MC-12W Liberty, Beale AFB
B-52H Stratofortress "Wham Bam II", 69 BS, Minot AFB
P-3C Orion VP-26 "Tridents" from NAS Jacksonville
A-10C Thunderbolt II, 358th FS "Lobos", Davis-Monthan AFB
Warbirds

AT-6/SN, Stearman and PT-19 Trainers
AH-1G Cobra in Arctic hi-vis markings
P-51D Mustang "Comfortably Numb"