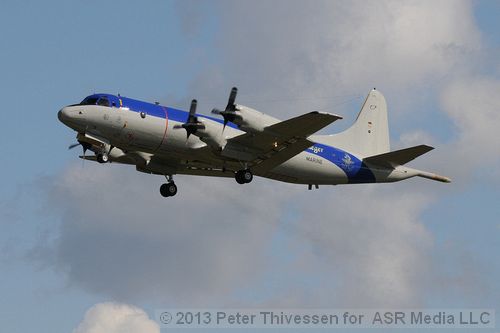 Nearly 30,000 people gathered on the Naval Airstation Nordholz, Lower Saxony, Germany to celebrate the 100 years of Naval Air Aviation on Sunday 18 th August 2013. Starting at 9am and until 5pm visitors could marvel at the German aviators, their aircraft as well as those of national and international guests. Unfortunately the weather was unstable and rainy. Nevertheless, there were numerous flight demonstrations.
Single display with P-3C Orion, Dornier Do228, MK41 Sea King and MK88A Sea Lynx (German Navy)
Joined display "History of Dornier" with FWP 149D, Dornier Do27, Dornier Do28, Dornier Do228 (Comradeship of Reservists, Flying Club Nordholz/Cuxhaven and German Navy) - Dropping of parachutists by P-3C Orion and MK 41 Sea King (German Navy)
Joined display "Evacuation Operations" with P-3C Orion, MK88A Sea Lynx and MK41 Sea King (German Navy)
Single display with Bo 105 (Army Flight Academy)
Single display with Saab 105 OE (Austrian Forces)
Joined flyby with MK88A Sea Lynx, MK41 Sea King, P-3C Orion and Dornier Do228 (German Navy)
The above demonstration gave a good insight for the visitors to see how the German naval aviation works worldwide. Many of naval aviation aircraft are designed for reconnaissance flights, but also the evacuation or rescue from shipwrecked as part of their daily tasks.
Nordholz is the homebase of Naval Air Wing 3 "Graf Zeppelin". The squadron has eight P-3C "Orion" as a maritime patrol and an electronic reconnaissance aircraft and two "Dornier" 228 LM aircraft to monitor pollution in the German coastal waters. The Naval Air Wing 5 is also stationed in Nordholz. It has twenty-one "Sea King" Mk.41 medium transport helicopters, which were used onboard Navy vessels as well as for the search and rescue. Following the realignment of the Navy, the squadron is also responsible for the operation of twenty-two "Sea Lynx" Mk 88 A helicopters.
There were several aircraft with "100 years of Naval Aviation" paint schemes making them real were eye-catchers such as the "Sea King" Mk.41 , "Sea Lynx" Mk 88 A and the P-3C "Orion".
ASR Media would like to thank the pressofficer Stabsbootmann Jonack for his generous cooperation, hospitality and friendliness.
The following aircraft participated in flying displays or as static:
P-3C Orion MFG3 100Y Marine
Sea King Mk.41 MFG5 100Y Marine
Super Lynx Mk.88A MFG5 100Y Marine
Do.228-212(LM)/NG MFG3
Tornado IDS AG51
C-160D LTG63
UH-1D HSG64
CH-53G(S) HGS64
Bo.105P1M HFWS
EC-135 HFWS
J.105Ö 1JTS/DüsentrainerStaffel, Austria
F-16AM 10W/349Sq, Belgium
Mi-171Sh 231.vrl, Czech
Super Lynx Mk.90B Esk723, Denmark
Atlantic 2 21/23F, France
M-28B1R 30.elMW, Poland
E-3A AWACS, Lux.
NH.90-NFH 860Sq, Netherland
Chinook HC4, UK
Sea King HAR5/HU5 771Sq, UK
Wildcat HM1 RN, UK
A-4N Skyhawk, BAS
Do228 Finnish Border Guard
Dash 8-300 Swedish Coastguard